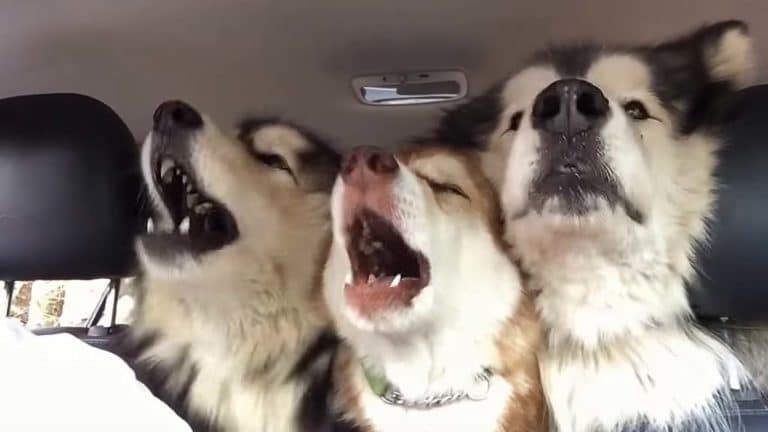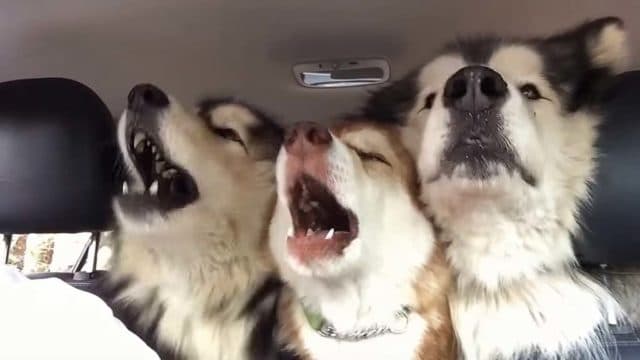 Call them what you will "the Back Seat Boys" or "3 Dog Night" these Malamutes steal the show on this road trip to the groomers. Meet Travis, Leila and Zoe (from right to left)
According to their owner these 3 just love to sing at least a couple times a day while sitting in the back seat of the car. Who needs a radio with these fun loving pooches along.
If you love Malamutes like we do you'll get a kick out of this viral dog video.
What song do you think they are going to sing next? First one to guess correctly gets a signed "paw-to-graph".
Malamutes love attention and these three are bound to get their fill. Of course dogs of all kinds are some of the most wonderful animals on the planet (we may be a bit biased) but these fluffy pups know how to steal our hearts.
The Alaskan Malamutes in this video have been practicing for their big debut. While they may need some vocal lessons to hit it big time we are guessing they've got a shot for some prime time exposure. The next Super Bowl half time show anyone?
We just fell in love with their terrific tunes and hope you enjoy this quick vid as much as we did. Thankfully their human was ready with the camera so we could share in the fun.
If you dug the dogs as much as we did please share them with your dog loving friends and fam. With your help we'll help them cut a recording contract. 🙂 Who knows maybe they'll release a re-mix with Marshmello.
We would love to hear what you think of these guys too drop a comment below.