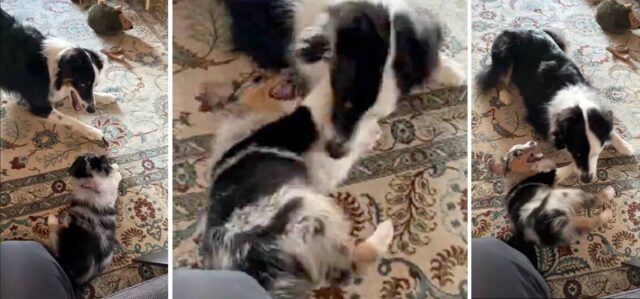 You'll know two dogs will get along with each other based on the way they interact during their first meeting. If canines view each other as friends, then chances are, they'll instantly engage in a playful game of tag at the get-go.
This Australian Shepherd energetically plays with its newest sibling the instant they meet. And, with the way it looks, these two will become the best of friends as they grow together.
Ooh! I have a new sister!
In this energetic footage, Dobby, an Australian Shepherd, lounges on their carpeted floor. Yet, Dobby isn't alone in the area as one can see his newest sister lying on the carpet as well.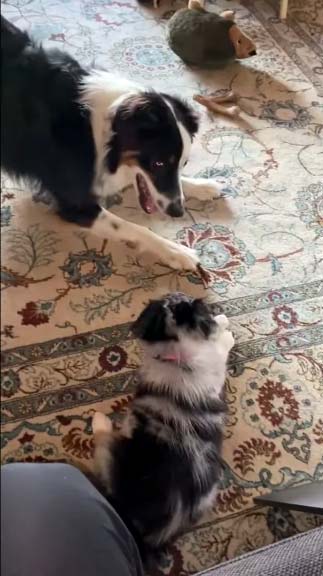 Before anyone can guess what's happening, Dobby engages in a lively game of catch with his newest sister. And, when the puppy begins running around the living room, Dobby immediately runs after his sister.
Yet, as Dobby is larger, he manages to catch his sister. With this, a lively wrestling match soon ensues, with the feisty puppy exchanging playful nips with her big brother.
Okay, that's enough! But I had fun!
As the video progresses, Dobby carries on playing with her sister, eager to get to know her better. Even as the tiny pup manages to escape Dobby's pindown, Dobby doesn't leave his sister be and follows her around.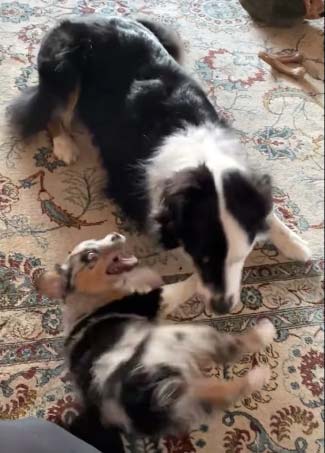 No matter where the tiny Aussie pup goes, Dobby makes sure to follow. Thus, when the puppy decides to have some downtime, she finally allows Dobby to affectionately give her some kisses.
But, as the puppy finds Dobby's kisses ticklish, she again shimmies herself out of the older Aussie's grip and runs across the room again. Do you think Dobby still follows his sister around to continue playing with her? Better stay tuned and continue watching until the footage's end to find out.
Video Credit: Rumble Viral via YouTube 
Read another incredible story about a stolen dog that lived in a dog fighting ring for two years until she was spotted by her owner on social media