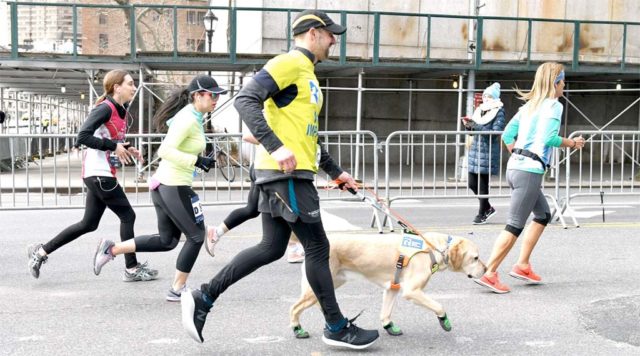 In the spring of 2019 history was made for long time runner Tom Panek and his team of seeing eye dogs.
Panek made history Sunday March 17th at the United Airlines New York City Half Marathon where he was the first blind runner to complete a long distance race led by guide dogs instead of human guides.
Finishing in a bit over 2 hours and 20 minutes he was assisted by his team of three Labrador retrievers – Westley, Waffle and Gus. Not to be forgotten are the rest of his training team – Lynx, Yukon, Flint and Fred all Labs specially trained from the age of 18 months to be running guides.
Tom hoped to bring awareness to Guiding Eyes for the Blind an organization he runs to, as they state, "provide superbly bred and trained dogs to people who are blind and visually impaired." The service they provide is free of charge to those in need.
Panek lost his sight over 25 years ago due to a genetic condition in his twenty's and ever since he was understandably too scared to run. After an adjustment period his love of running won out and he began running with a human guide. But he said it just wasn't the same.
His joy of running came from the feeling of being out on your own running your own race. When you are tied to another person it is no longer your own race. "The independence isn't quite there," Panek said.
The idea for the Running Guides program was started in 2015 at the suggestion of Richard Hunter, a former Marine who was blind but hoped to begin running again.
Thomas Panek created a team of expert dog trainers to train a group of dogs, primarily Labrador retrievers and German shepherds, to become running guide dogs. Not only did they need to perfect the skill of keeping their owners safe from obstacles they also needed to be great runners with lots of endurance. Only a select group had what it took to be running guides.
Back to our historical race
The bond a person makes with their dog is unbreakable. Can you imagine how strong that bond is when your dog allows you to "see"? Every step Tom had taken for the past five years was with Gus so their bond was more than just that of a simple owner and guide. Gus is family.
As the 13.1 mile race came to a close with cheers and tears Gus was the one that led Tom over the finish line of the half marathon. After the historical race Gus was able to retire from being a guide, but not from the love he shared with Tom Panek.
Watch the emotional journey Tom and his dogs made on March 17th, 2019.