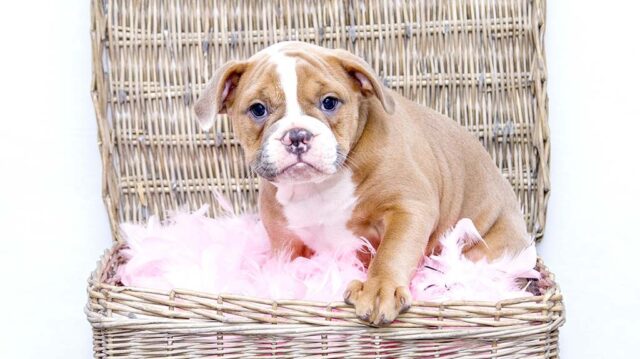 Ute-Christin Photography is known for its gorgeous newborn baby photos. However, its owner and photographer Ute-Christin Cowan met Ellie. So, suddenly, Ute-Christin made the decision of doing shoots with newborn dogs too.
Ellie is the ten-week-old bulldog of Ute-Christin's client. After meeting the puppy, Ute-Christin got inspired to try something new and adorable for Valentine's Day. Just like her tiny human subjects, Ute-Christin dressed Ellie with headbands. She surrounded the pup with festive props like hearts that symbolize the love month.
According to Ute-Christin, Ellie was so cute. She was very fresh at ten weeks and was well-behaved during her first photoshoot. Ute-Christin was very excited about the photo session's result. When the pictures came out, Ellie looked nothing but adorably gorgeous.
One of the shots showed Ellie posing nicely inside a heart-shaped box. In another one, Ellie was seen donning her pink princess-inspired attire. She also posed inside a blue vintage-looking bucket with a matching blue ribbon. There were even a few photos featuring the little bulldog fast asleep. Although this was her first photo session, Ellie already looked like a pro.
If you are wondering how they came up with such adorable shots, Ute-Christin shared a little tip. According to her, before they started their photography session, Ellie's mom had tired her out. They went on a nice long walk. That way, she will better behave during the shoot. The pup even fell asleep on the props while they were shooting.
Whether Ellie was wide awake, looking at the camera, or fast asleep, there's no doubt that she looked just as adorable. With the success of Ute-Christin's photography session with little Ellie, hopefully, she would do more furry photo sessions in the future. After all, humans or dogs, babies have a unique way of putting a smile on people's faces.
Credit: Ute-Christin Photography LLC – Newborn and Family Photographer, Connecticut