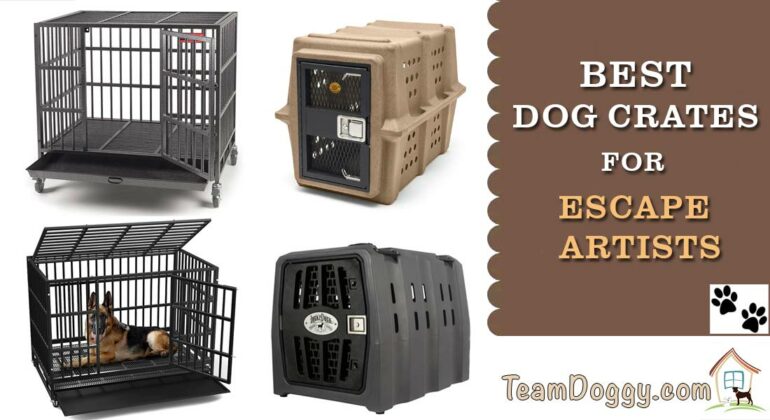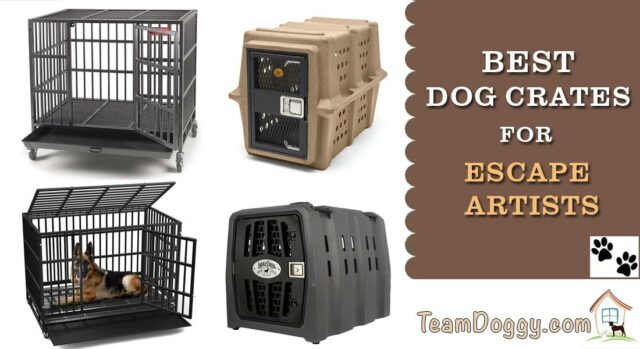 My neighbor's dog is an escape artist. A strong rottweiler mix, he always finds a way to break out of his crate. And no matter how many times they try to lock him in, he manages to find a way out.
I can't even count how many times I've heard about him getting into mischief – tearing up furniture, or destroying the garbage can and spreading everything all over the house. On one of his more dastardly escapes he dashed from the house, dug under the fence, and ran into the street! It was only by luck that a car didn't hit him.
Using a standard wire dog crate just doesn't cut it when you have a dog that thinks he's Houdini. That's why you need back-up in the form of an escape-proof dog crate. We did some digging, (forgive the pun) and came up with a list of the best dog crates for escape artists.
Table of Contents
While these aren't ranked in any particular order, each of them are valid options. They each have distinct use cases depending on what you need for your dog that likes to chew through his crate faster than a plush toy.
ProSelect Empire Dog Crate
** Highest Rated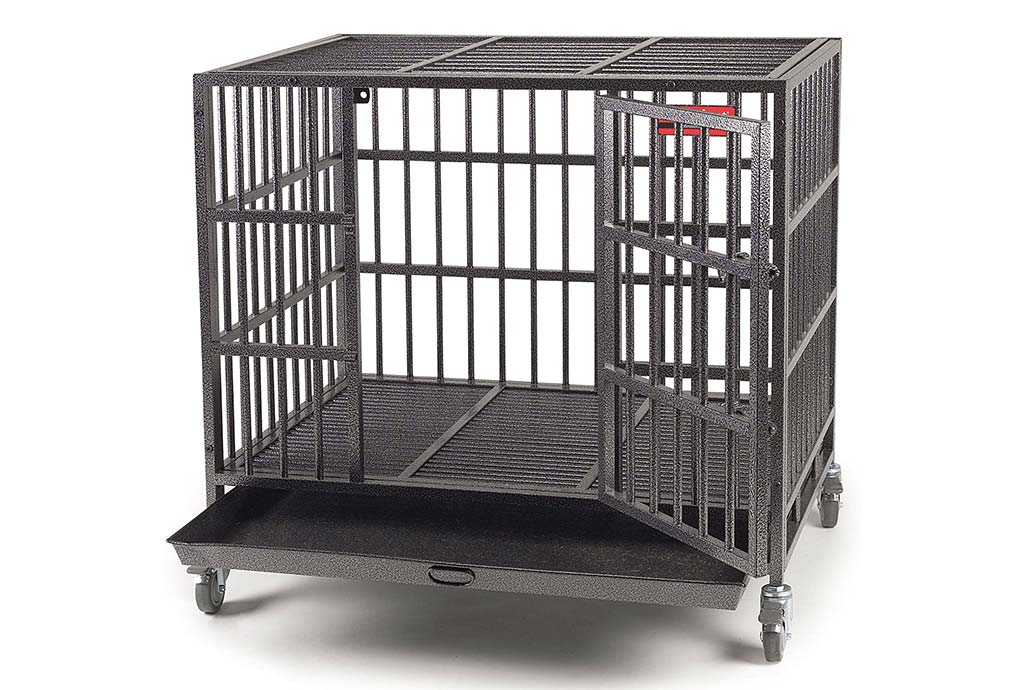 Escape artist dogs are notorious for finding a crate's weak spot and working at it relentlessly, until they break free to wreck havoc on your house. But that can all be prevented with a highly durable cage like this one from ProSelect.
We know you need the best when it comes to your precious (but diligent) doggo so we scoured reviews looking for people desperately searching for kennels for dogs who escaped. This one had the most satisfied customers out of the dozens of similar styled dog crates and kennels we looked at.
Security Features: 20-Guage Steal and reinforced 0.5-inch diameter steel tubes with an attractive hammertone finish. Two steel sliding latches keep the door secure against even the smartest wanna be canine magicians.
Convenience features: Removable castors – If you need to quickly move the crate from your deck to your living room these locking castors won't slow your roll. If you'd like a more stable base they can easily be removed. The easy-clean floor grate with a removable sliding tray make taking care of your dogs need quick and easy.
Two sizes:
Medium 33.75″ H x 37″ W x 25.13″ L (75.2 Lbs)
Large: 41.25″ H x 42.25″ W x 30.75″ L (99.2 Lbs)
Lucky Duck Premium Dog Kennel
** Best travel crate for outdoor enthusiasts
** Lightest escape-proof dog crate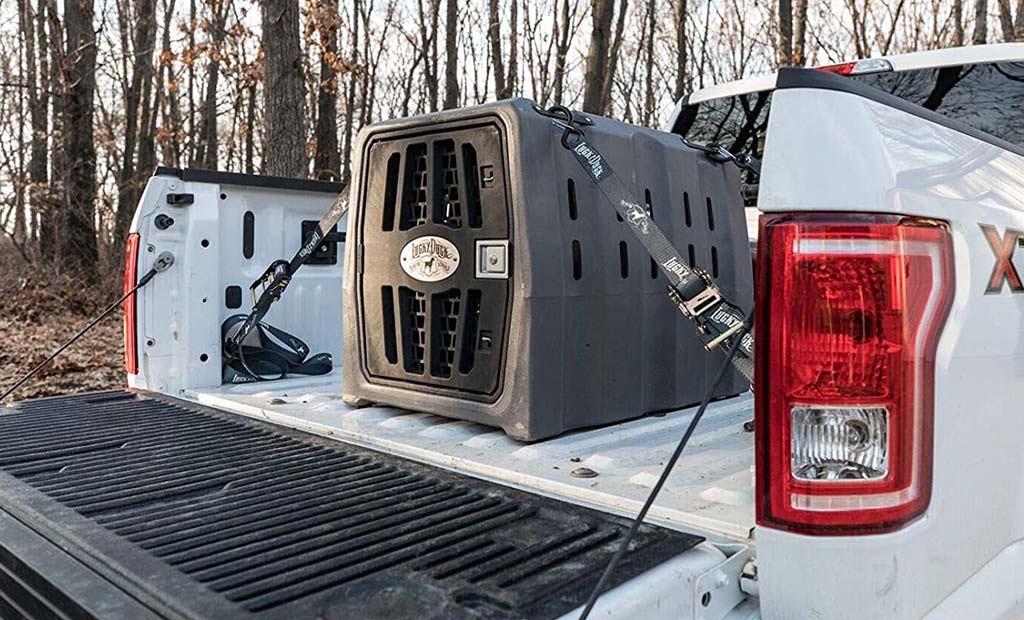 Of all the dog crates I researched this is one of my favorites. American made with the highest quality and functionality for your mover and shaker furry best friend. I love the sturdy, impenetrable look of this escape-proof dog crate. And more importantly your dog will feel safe, be safe, and stay where he's told.
If you and your dog are always on the go making the most of what life as to offer, this is the perfect crate for you. None of those flimsy slide latches on this puppy. Your dog will stay cozy inside right where he needs to be secured by a locking paddle latch. Unless he carves a key from a toenail he isn't getting past that lock!
It's crafted from a one piece roto-molded material that is strong and light-weight at only 38 pounds. Which makes it easy to lift in and out of your truck, SUV, Jeep, or even boat if your dog likes to water ski. And the best part is that this beast is 5-star crash test rated from the Center For Pet Safety.
In a nut shell this crate is designed with everything in mind to keep your dog calm and safe for whatever adventures you enjoy the most.
Dakota 283 Hero Kennel
** Most Impenetrable Award Winner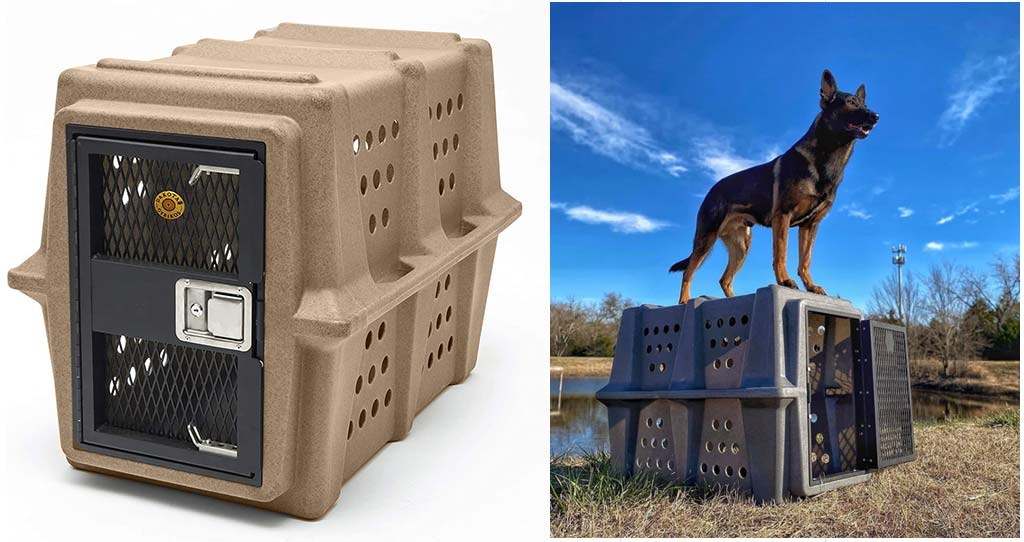 Another contender for best dog crate for escape artists is the Dakota 389 Hero. In fact, this one wins the Team Doggy award for toughest most secure dog crate hands down. There are a lot of wanna-be canine carriers and crates that claim to be indestructible, this one backs it up with high end materials, construction, and long lasting performance. With a trusted Made in the USA stamp of approval.
The D283 Hero Kennel is made with military grade materials that were developed to withstand combat conditions. That means the Dakota Hero Kennel is the best solution for aggressive dogs who dream about breaking free to chew your couch, hump your pillow, and leave their calling card in your slippers.
Trusted by the toughest canine handlers in the military, police, search and rescue, and hunting enthusiasts, the Dakota will perform for all your needs – even if that's keeping your powerful poodle calm and safe while you're away at work.
Protection & Convenience Features:
Triple locking stainless steel door
Slammable easy-latch door
Military-Grade Design and Material
Drainage Hole for Easy Cleaning
Molded-in handles double as tie-down areas
Dakota 283 T1 Dog Crate
** Best for Small Dogs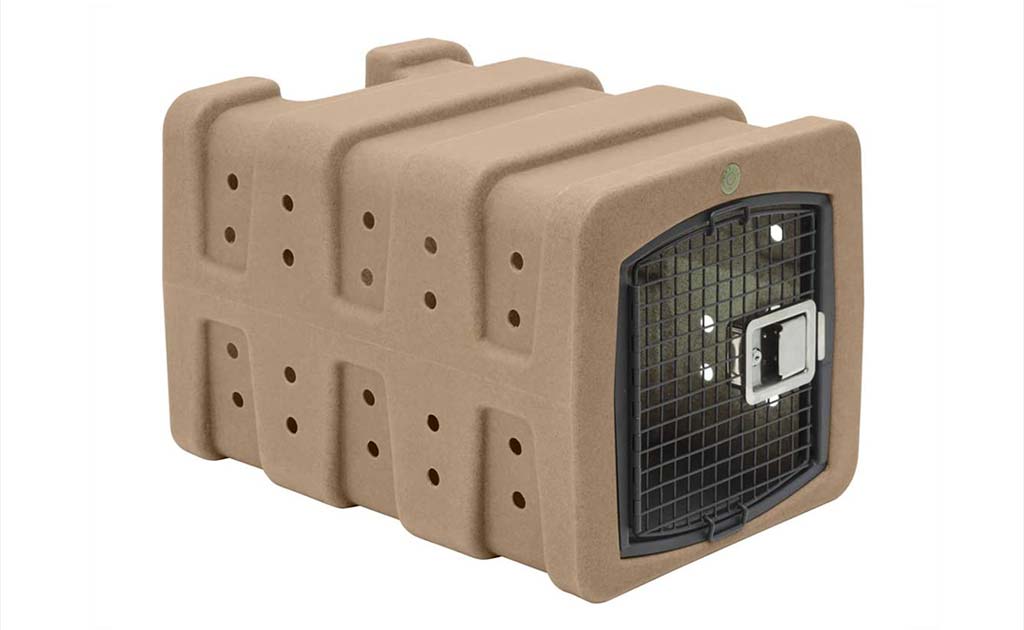 There aren't a lot of small dog heavy duty dog crates. I don't know if these companies don't think small dogs can be good escape artists but they haven't met some of the furry friends I know. If you have a small dog that could perform his Houdini act on stage in Vegas you'll love this Dakota dog crate.
Because it's made for smaller dogs it has a lower profile so it easily fits on a truck bed with a Tonneau cover. And it's light weight at only twenty-five pounds making it easy to handle.
Molded and Assembled in the USA
Keyed Paddle Latching Door
Rear-Positioned Easy-Grip Handle
Large Ventilation Holes
Easy-to-Clean Drain Hole
About the Dakota Brand
While researching our top picks for escape-proof dog kennels we came across a story from a customer of the Dakota line of dog crates that we just have to share.
A SAR K9 trainer told the story about his dad who was traveling across country to a dog trial event in Pennsylvania. It was a cold blustery day with black ice dangerously obscured by a dusting of snow. His dad lost control of the truck, rolled it, and ended up on it's side.
The door had to be cut open to get him, as well as his dog, to safety. The fire department credited the durability of the Dakota kennel for saving the dog's life. In their experience any other kennel would have been crushed in the accident.
When it comes down to it that's what you want from your crate. If you can't say the same about your current dog crate it's time for a Dakota upgrade isn't it?
Snimoy Dog Crate
** Best Looking Escape-Proof Dog Crate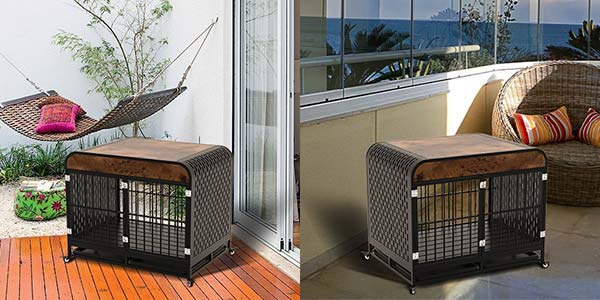 If you are looking for something a little more aesthetically pleasing to fit your home decor this is it. It looks great and it's heavy duty enough to keep your little escape master from tearing apart the house when you're gone.
Comes in three sizes: small, medium, and large to fit just about any sized dog at a surprisingly affordable price point given the quality and the style. While you may give up some of the durability in favor of design this crate does have several extras that keep your dog put.
The double door system is really nice giving you easy access to your dog. And if you leave them open your dog can simply hop on in when he needs a cozy place to sleep, or nap.
Four anti-escape locks seem to do a good job keeping your doggo where you need him to be. While the 360-degree locking wheels make re-positioning quick and easy. Tough enough to keep most dogs happy and healthy inside. Yet this furniture style dog crate with rounded edges and faux wood top looks like it belongs in your home rather than the eye-sore that other wire or steel cages have.
As a side note this is also one of the best dog crates post surgery. If your dog had a tough day at the vet he'll be happy to come home to this luxurious inviting crate that keeps him calm and safe while he recovers.
Sizes:
Small: 33" x 22" x 26" 44 lbs
Medium: 41" x 32" x 30" 66 lbs
Large: 43" x 30" x 35" 82 lbs
SMONTER Heavy Duty Dog Crate
** Most Budget Friendly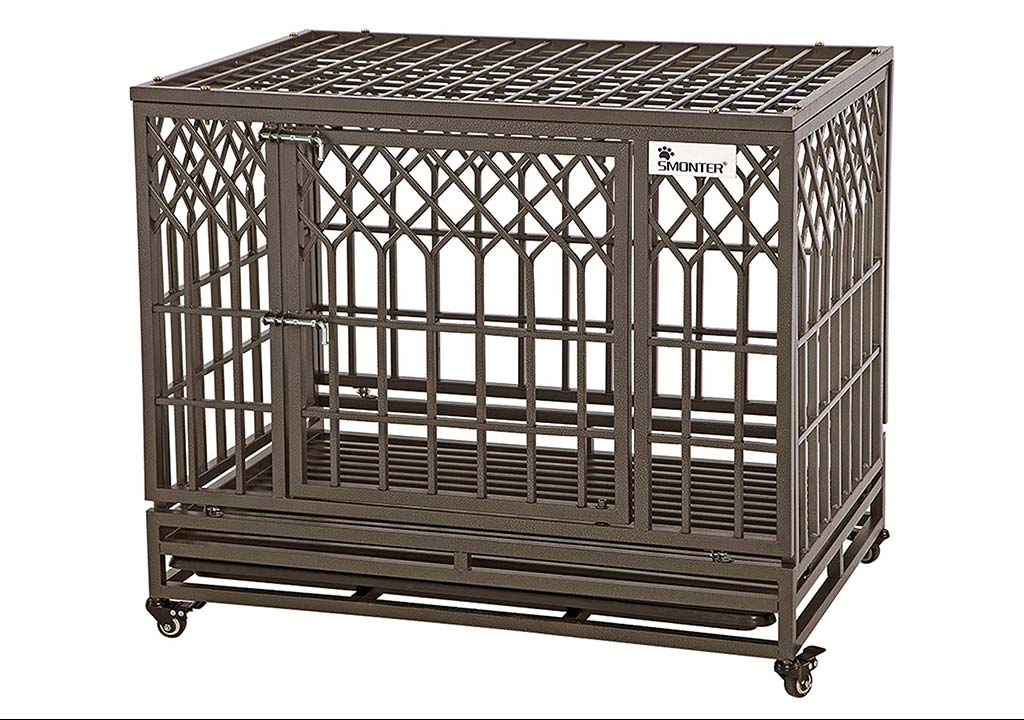 Generally when you have specific needs, like a dog that will do anything to find freedom, you have to pay through the nose to find a quality product. With escape-proof dog crates there are certainly levels of technology, materials, and craftsmanship that affect the price, but it's good to know there are high quality affordable options.
This heavy-duty dog cage from SMONTER is one of those. Very well built at a lower price point, this highly rated dog crate is made to keep your adventurous doggo comfortable, secure, and most importantly in his kennel where he is supposed to be.
360 degree locking castors
Slide out easy clean tray
Upgraded sliding plug locks
Y-pattern bite-proof upper metal construction
2 Sizes: Medium 38″L X 26″W X 32″H (63 Lbs) – Large 42″L X 31″W X 37″H (82 Lbs)
LEMBERI Indestructible Dog Crate
** Best Crate for Large Dog Escape Artists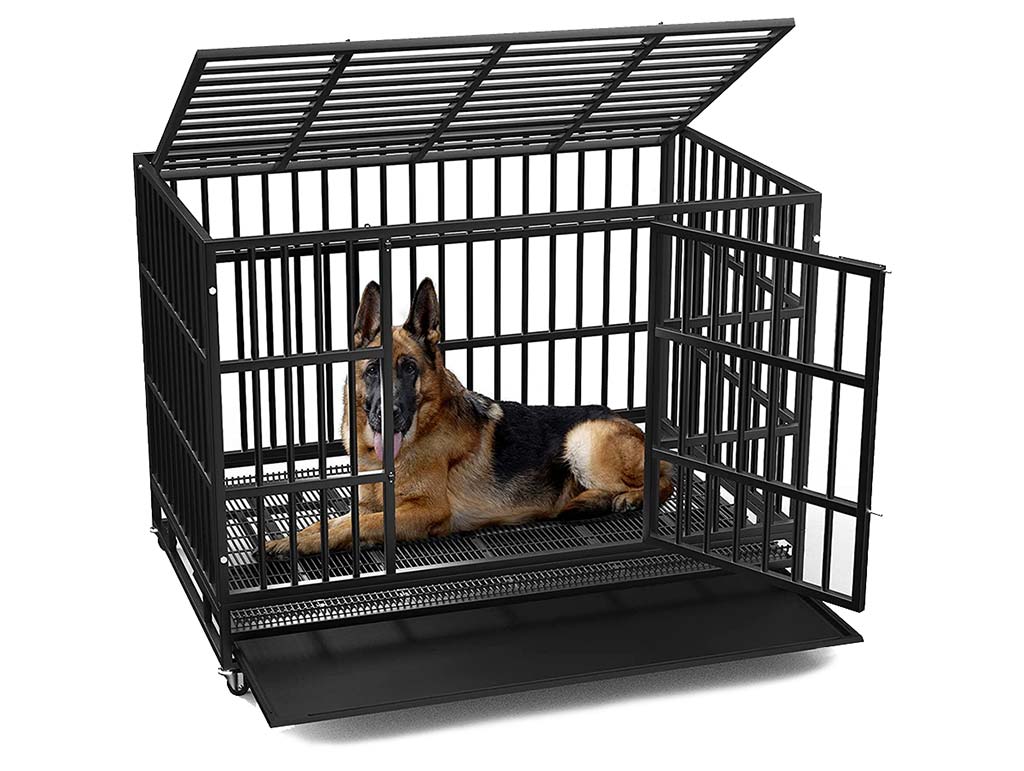 If your dog is just too big for most heavy duty dog crates and you have a tough time keeping them contained in your current crate this LEMBERI is a good find. Measuring 48″ x 30″ x 33″ (LWH) there is plenty of room for even our big boys, maybe even your Grate Dane (but it might be a little tight if he's a REALLY big guy)
What I really like about this crate is the top access door, which makes it easy to pop open and interact with your dog, or lay a cozy blanket on top of him to keep him warm on a cold night.
There is also a front access door with two locks and safety buckles that prevent your dog from escaping. The entire cage is 20-gauge steel with reinforced 0.5-inch-diameter steel tubes, and well crafted joint welds. All that means your dog will stay comfortable and secure even through the most anxious times when you are away.
Like many of the other cage style crates this one has locking casters for easy re-location, a pull out tray fro easy cleaning, and best yet it boasts a quick ten minute set-up time.
No matter what your style preferences, or intended uses for your dog crate we hope you've found an option here that will work for you. Ultimately all we want is for our dog to be calm, comfortable, and safe while we are traveling, away, or sleeping soundly in the other room.
These are the best options we've found that do that, even for those dogs who make it their mission to break free and live on the wild side.