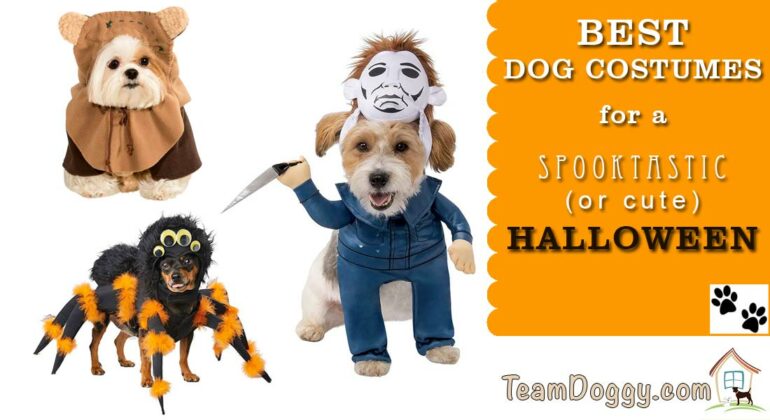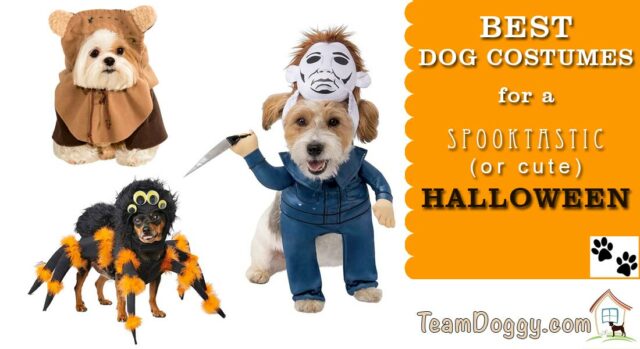 Every year we like to go all out for Halloween – and that includes coming up with creative dog costumes for our furry little monsters. Whether you like to go the DIY route and make your own costumes or you just want to find the latest store bought costumes for dogs, you are sure to get some great ideas in this year's best dog costumes for 2022 guide.
At this time of year the air begins to cool and our family gets that Spidey tingling urge to get creative. I'm talking about bowls full of jello with fake eye balls, creaking coffins, and spider webs galore. (truth be told, we just don't dust for a month or two and that part takes care of itself – kidding. Maybe.)
Our dogs really get into it too. Some dogs don't care for costumes and clothes, but ours seem to really get their ghosty ghoulie mojo on. If your dogs are the same, let's get right to it and find them this year's doggy Halloween costume, shall we?
Some of the best dog costumes in 2021 included skeletons, Mario (from Mario Brothers), Stephen King's IT, The Grinch, Little Red Riding Hood, Paw Patrol (how fitting), and of course your Disney favorites, Woody and Cruella DeVille.
As the 2022 Halloween season approaches, we have some good old standbys and some new favorites. You'll just have to keep reading to find out what they are…
What are the Best Dog Costumes for 2022?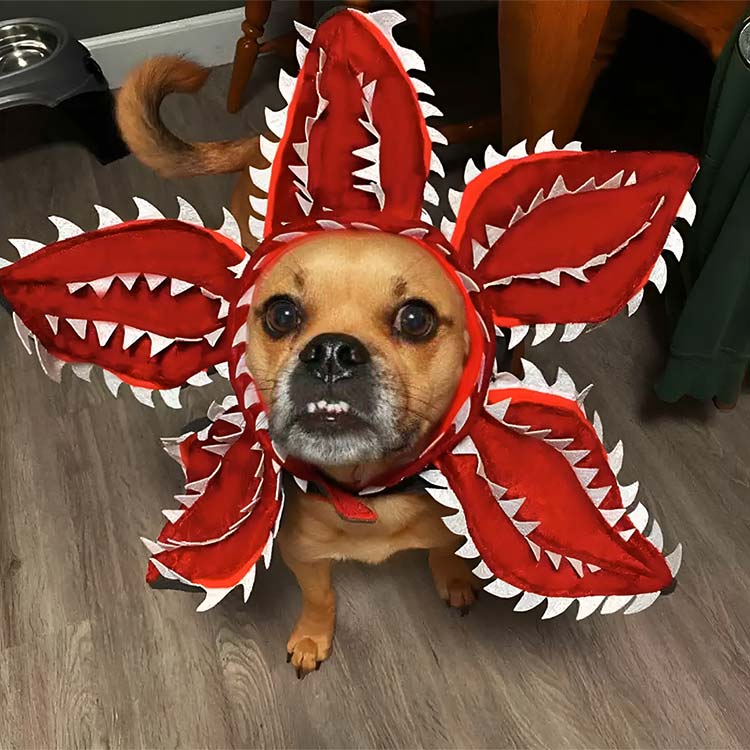 New on the scene every year are costumes based on current movies and TV shows. This year is no "stranger" to this concept with the popularity of dog costumes based on the Netflix hit show Stranger Things. In particular, the Demogorgon dog costume is sure to be a big hit this year.
While your dog may be cute and cuddly, this creative dog costume will transform him or her into a little monster. Isn't this tough guy such a cutie?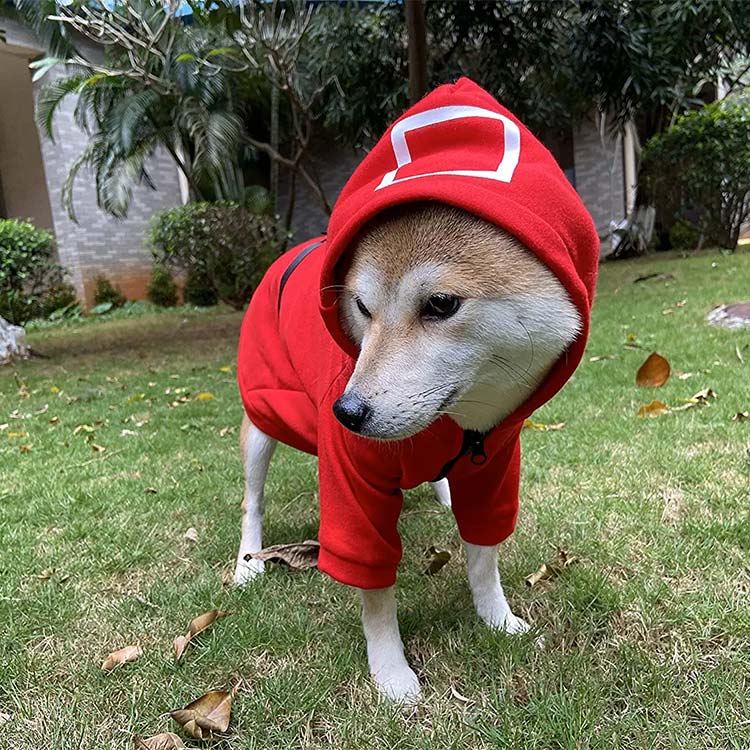 Another crazy TV fad this year was Squid Games. So, of course, Squid Games dog costumes might be right up your alley. You can find either the red guard costume or the numbered player costume for your dog. Since it's a hot seller, it may be hard to find them in stock.
Of course, we always have our movie favorites that come back year after year. Like Star Wars, Spiderman, Gremlins, Frankenstein, various super hero dog costumes, and even the three-headed dog, Cerberus, from Harry Potter.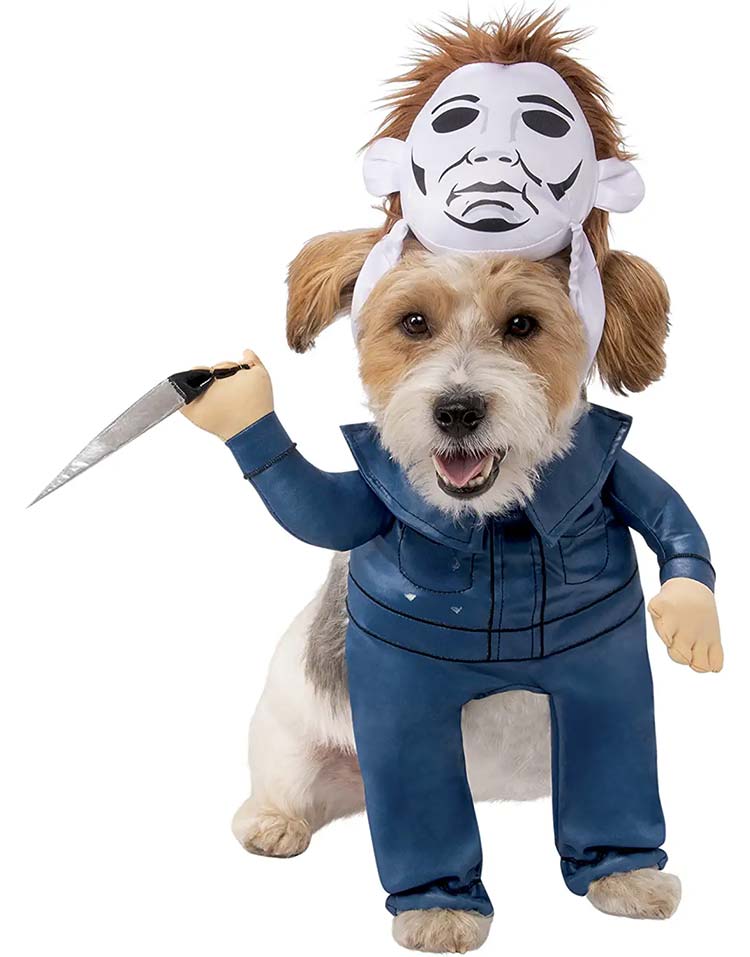 A particularly creepy costume fitting for Halloween is the Michael Myers dog costume from the Halloween movie series. I don't know about you, but there is something about a smiling cute doggy face in this costume that just creeps me out. Perfect for Halloween!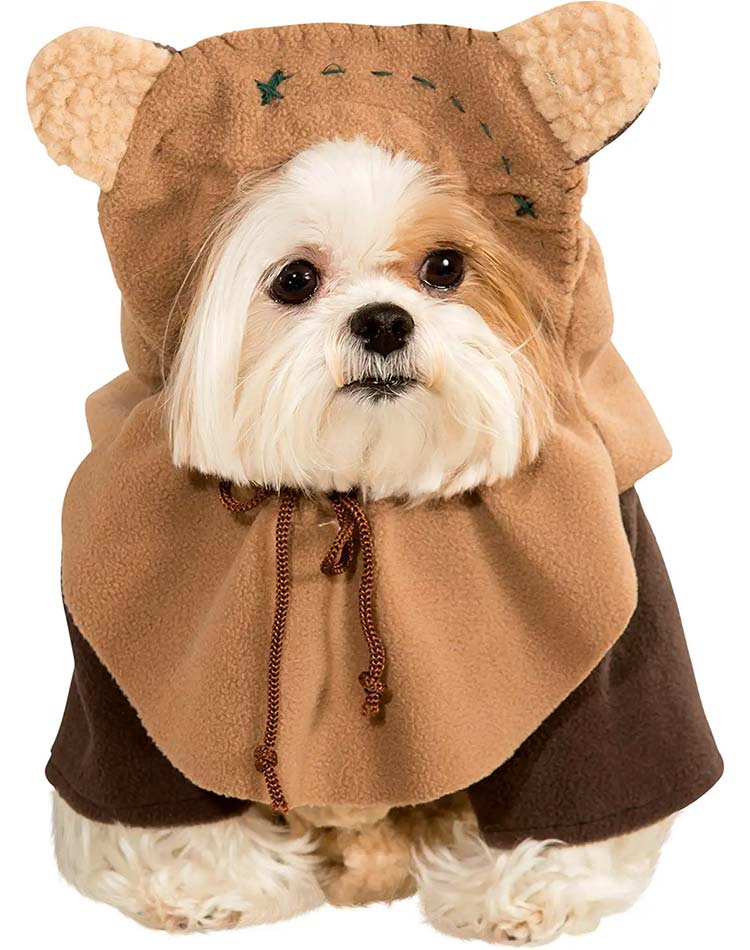 If a more cute and adorable dog costume is more up your alley, Star Wars comes to the rescue. We've seen some fantastic Wookie costumes for dogs, but we couldn't find one at our local pet store. This Ewok costume we found on Amazon is so cute if you have a little doggo, we just had to share. How couldn't you fall in love and give this dog lots of treats?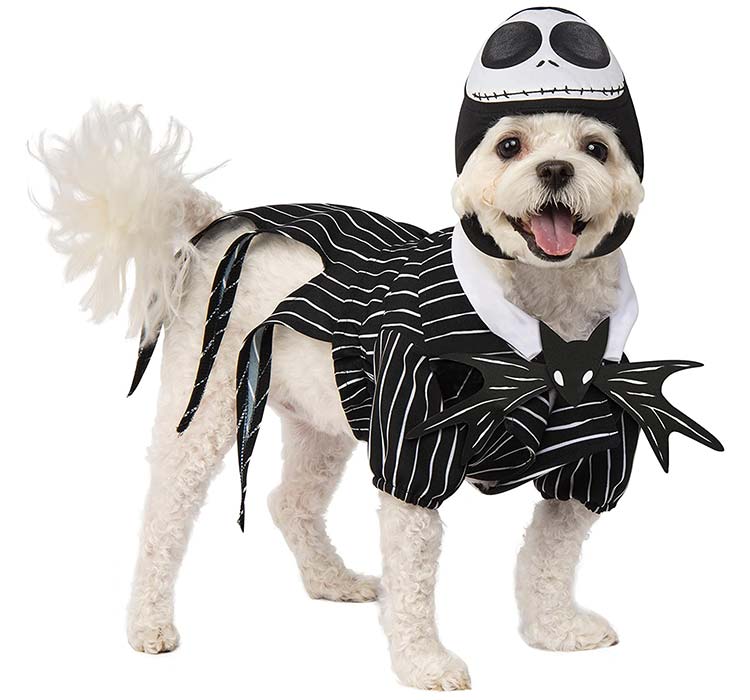 Another hot trend from years past is the movie Nightmare Before Christmas. It's always one of our favorite movies to fire up this time of year. So the Jack Skellington dog costume is a popular one if you are a fan of Tim Burton's The Nightmare Before Christmas. This Jack Skellington-inspired costume is perfect for your pup. It comes with a black jumpsuit and a detachable headpiece that features Jack's signature ghostly face. Just make sure to put some black eyeliner on your dog so they really look the part! (Umm, not really. That would probably be a bad idea – we don't want any poor puppers getting jabbed in the eye do we?)
If the latest TV show or movie costume isn't what you have in mind for your dog this year. How about a really unique dog costume?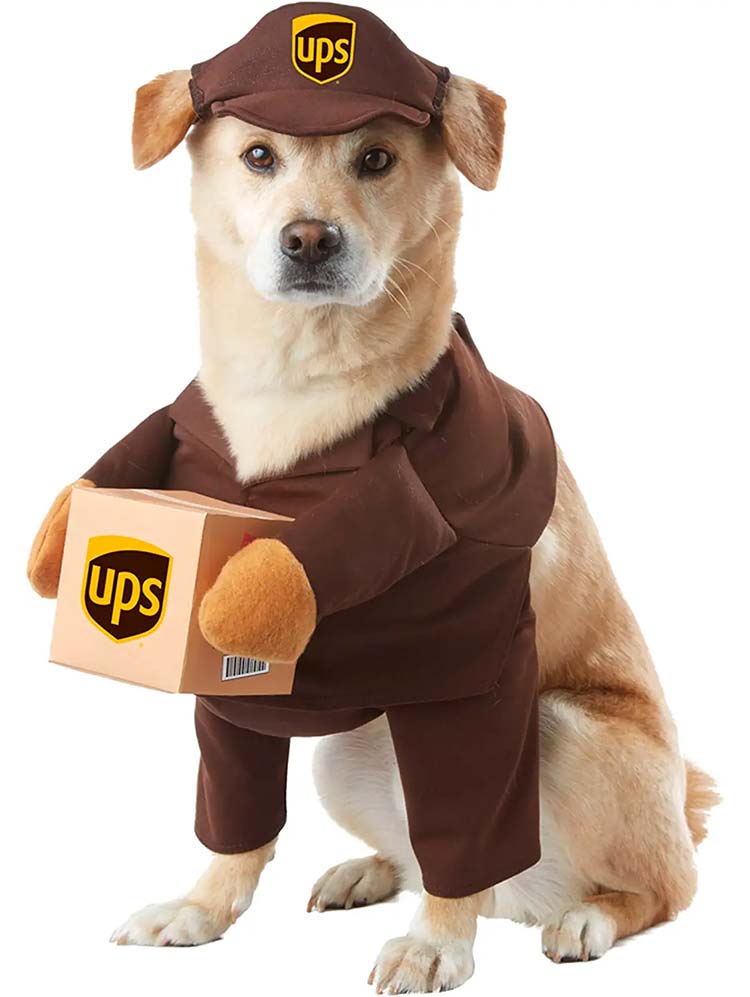 What is something all dogs love to chase? Well, besides squirrels, and birds, and well, anything that moves. The mail man! That's why this UPS driver dog costume is hilariously ironic. This tops our list as one of the most unique, creative dog costumes this year. Isn't he adorable?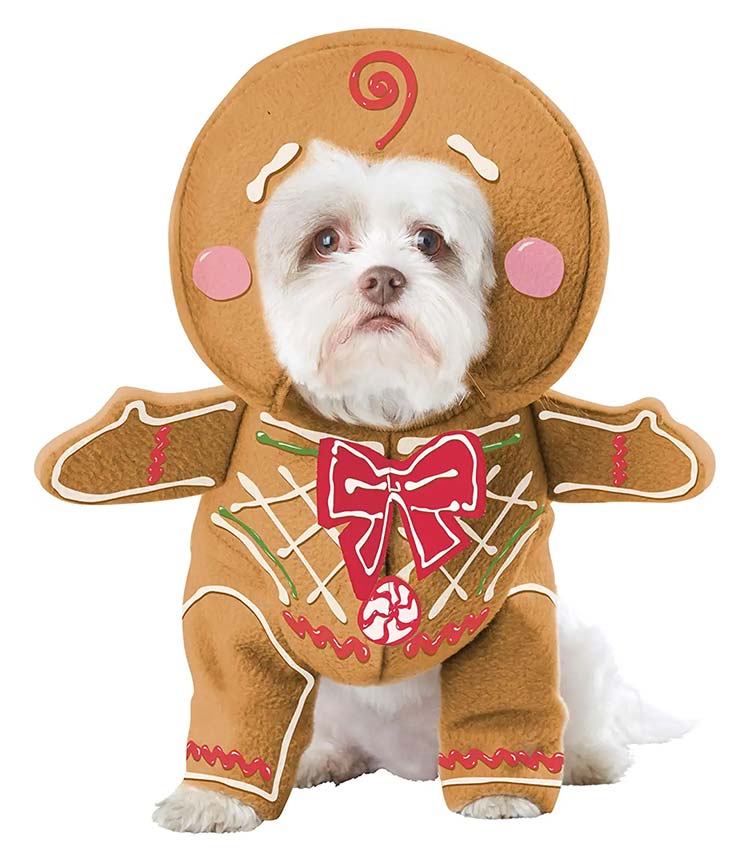 Another really cute dog costume you might try this Halloween is the fun and festive gingerbread man. Your little dog will have a blast running around the house or trick-or-treating in the neighborhood with you. Because you all know… "You can't catch me. I'm the Gingerbread Man."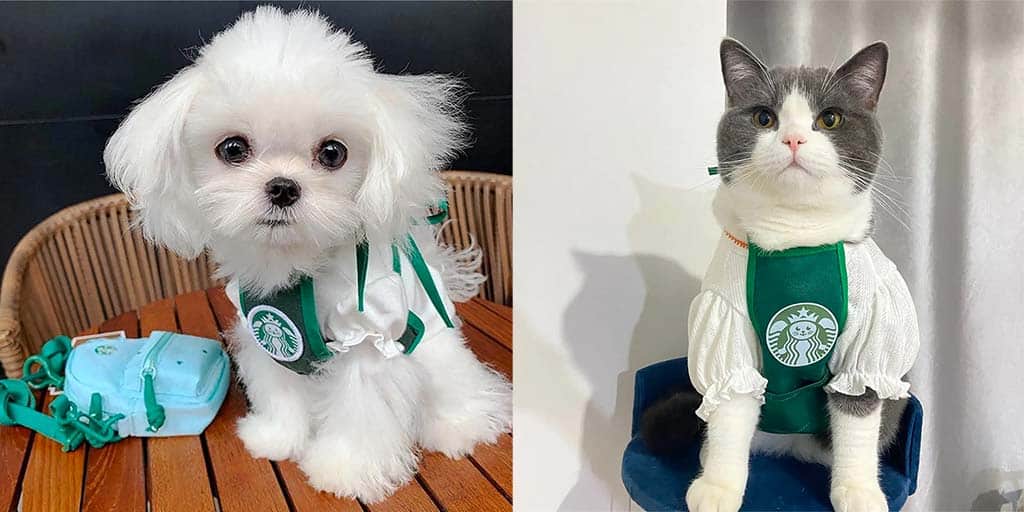 As long as we are on the topic of gingerbread, how about a gingerbread latte from Starbucks? Or maybe just a Starbucks dog costume for your furry friend? Of course, the costume maker does not have the rights to use the actual Starbucks logo, but it looks close enough so everyone will know what it is. This cute "Starbucks" apron is super cute on cats too, so if you are looking for a simple cat costume and your cat loves the 'ole SB as much as you do, this will be a cute costume to pick up.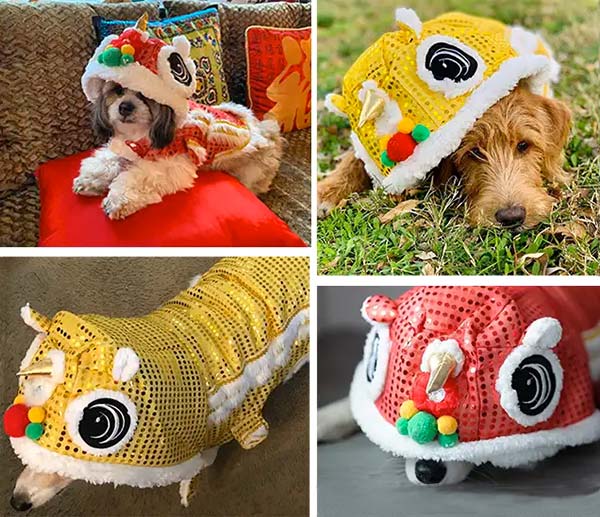 The Chinese Lion Dance is an important tradition that symbolizes good luck and prosperity for the new year. It's traditionally performed for the Chinese New Year celebration at the end of January each year. It might surprise you to hear the lion dance dog costume is quite popular as well. Can you imagine a bunch of little doggy "lions" running around happily pretending to be festive dancers? With the lion dance costume for your dog, you can take part in the fun too.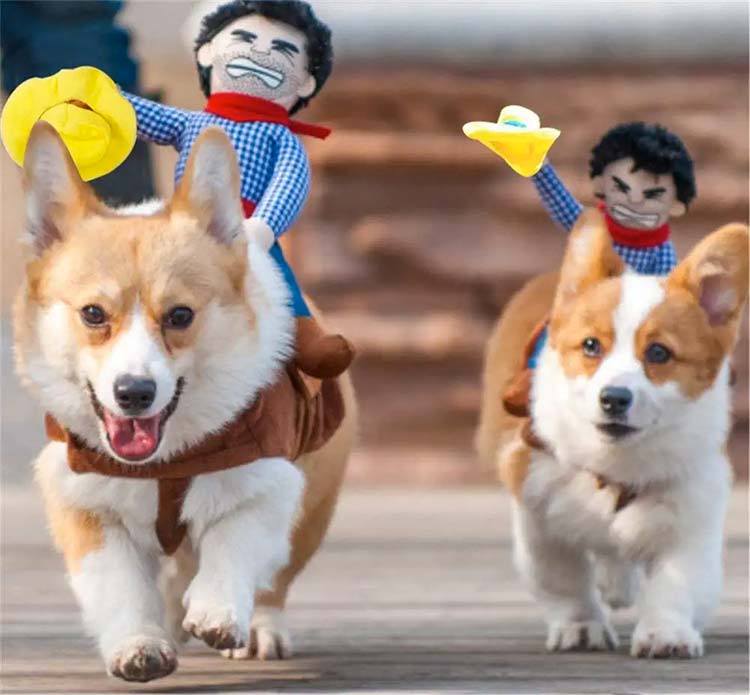 Let's travel back to the West, the Old West, for some good 'ole cowboy fun. This year the cowboy riding a dog costume is a popular one. So wind up your lasso, dust off your cowboy hat, and set your doggy up with a pardner. Yeeehaw! This fun dog costume is available in extra small, small, medium, and large for all size dogs.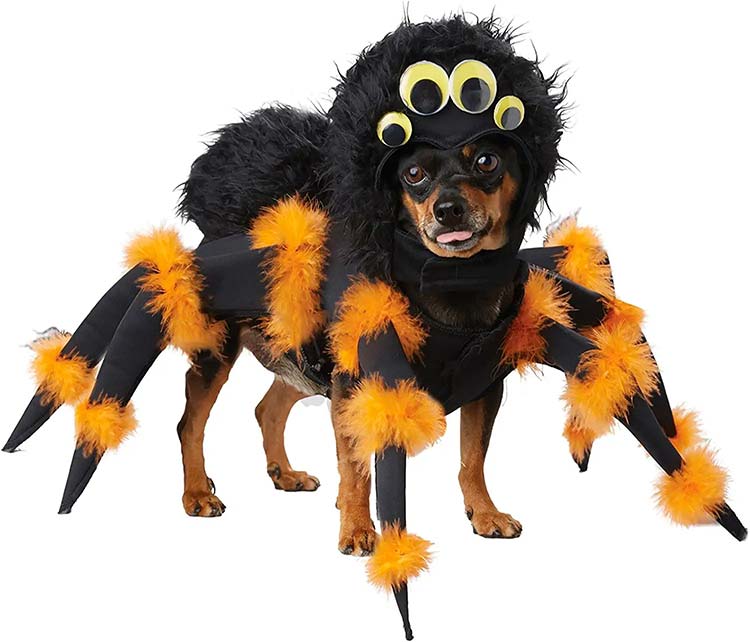 Halloween isn't Halloween without creepy crawlies. What gives you the chills more than a SPIDER! This cool creative dog costume looks so realistic your friends and neighbors will be quaking in their boots. And your big or little dog will have a ton of fun pretending to be a tarantula! (4 sizes available)
This Halloween is going to be the best one yet when you choose a fun, scary, or hilarious costume for your dog. Which one is your favorite?
Be sure to leave a comment telling us what you and your dog are planning on being this year.
Where to Get Dog Costumes
This time of year you can find costumes for your dog just about anywhere you find pet products. Some of our favorites are PetSmart, Party City, Target, eBay, Petco, Walmart, and, of course, the ultimate pet palace Amazon.
How Do I Choose the Right Size Costume for My Dog?
Sizing pet costumes can be a bit tricky because all manufacturers are slightly different with their sizes. It's like finding that perfect fitting pair of jeans – I personally think its like finding the abominable snowman – just a myth.
Fortunately, sizing dog costumes aren't quite that hard. But make sure you read the product reviews to see how the sizes are fitting before you make the final purchase.
How to Measure Your Dog for Clothes and Costumes
Typically, there are three measurements you need to find the correct size. Neck, length, and chest.
Measure your dog's neck: Wrap the tape measure around the base of the neck where the neck meets the shoulders. You want to be able to slip a couple of fingers under the tape measure so the clothing won't be too tight.
Measure your dog's chest: Perhaps the most important measurement is the chest measurement because you need to be able to get the costume on your dog without stuffing him in like a sausage. Wrap the measuring tape around the broadest part of his chest. This will typically be just behind the arm pits or forelegs. Again, leave enough room for a couple of fingers, or add a couple inches to the measurement so the clothing isn't too tight.
Measure your dog's length: Last but not least is the length measurement. While the dog is standing, simply measure from the base of the tail (where it connects with the back) to the withers. What in the world are the withers? A dog's withers are the little indent between the shoulder blades where the neck and shoulders connect.