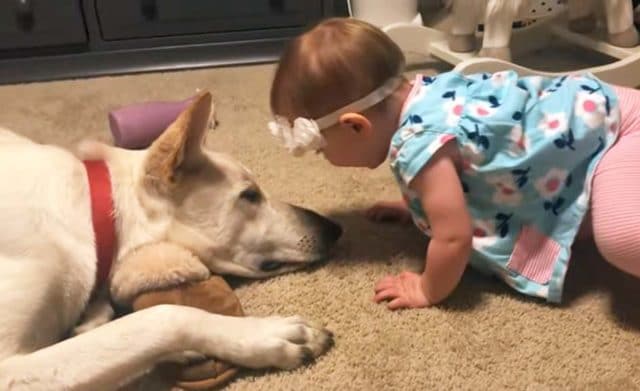 Introducing dogs to a baby is nerve-racking. You don't know how the two parties will behave around each other. You tend to be protective of both, and you can only hope that everything goes smoothly. This event, albeit stressful, is crucial for dog owners.
When the fur baby meets the real baby
This meet and greet is a big deal for dog lovers like Larry's paw parents. They were nervous when they introduced the German Shepherd to their daughter, Quinn. Larry was quick to show them that everything is okay. He was gentle, and he never took his eyes off her.
Paw-some siblings
Larry is nine months older than Quinn. He was still a puppy when he met her. According to his paw parents, Larry was enamored the first time he saw the baby. It seems that he made it his personal goal to always be there for her.
Larry and Quinn played with each other day in and day out. Quinn likes climbing over Larry. He shows affection by licking her hands. With him around, Quinn is definitely safe because he is so attentive.
Wet doggy kisses on the face
Larry has long been wanting to kiss Quinn's face, but her dad does not allow it. He always tries, but he follows when he is ordered not to do so. One day, Quinn's dad noticed that she is ready to receive kisses from Larry. The dog was scared at first to give her what she wanted.
When Quinn's dad showed Larry that he could finally kiss the baby, he was thrilled. After placing his paw on Quinn's leg and getting the go signal, he showered the baby with wet kisses.
Watch the full video here:
Source: Youtube via ViralHog
Thanks to our friends at Dog Heirs for writing the original article.