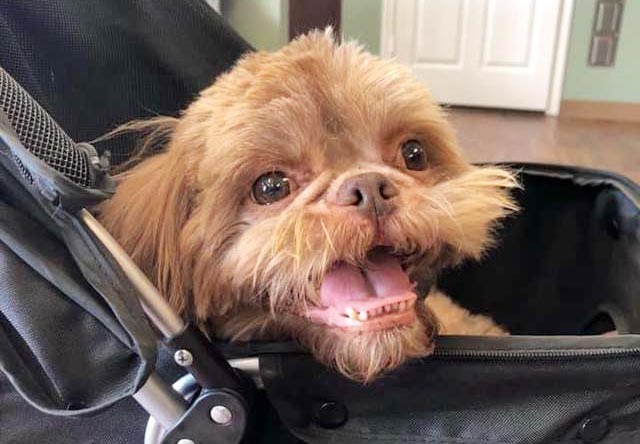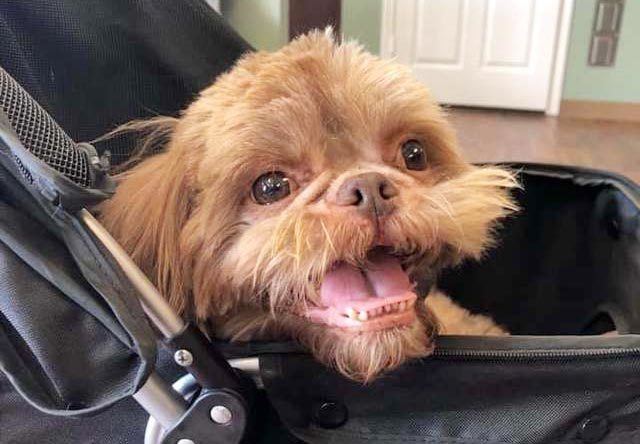 Radar was a shaggy bedraggled aging dog when he was dropped off at the Harris County Animal Shelter. It wasn't an unusual occurrence until shelter workers were asked by the dogs' owner to euthanize the 20 year old dog.
You see, the volunteers didn't see a dog who was suffering. They saw what appeared to be an old dog who was confused as to what he had done wrong.
Right away Radar was taken from the shelter to a local vet, where the story gets even more bizarre as holes quickly began to appear in the former owner's story.
It turns out the vet thought Radar to be five to eight years younger than the age listed on the shelter intake form. Despite being much younger than the owner had stated it was clear that Radar had not had an easy life.
The long overgrown nails and severely matted fur were signs he had been neglected. You see he was extremely malnourished, and his back legs had very little muscle tone. This could indicate he spent a considerable time locked in a tiny cage. At this point it wasn't clear if Radar would make it.
10/2 at 11:45am- Radar is SAFE with Animal Justice League! Photos below!10/2 at 10am: We are absolutely thrilled to say Radar will be out of there shortly! We have a great rescue en route as we speak to get him out of there! STAY TUNED AND THANK YOU! Sometimes animals come in and you're just at a loss for words. This is one of those times. This little Ewok-looking teddy bear is Radar. It's pretty easy to see that Radar is terrified, confused and wondering where anything familiar went. You see, Radar is TWENTY YEARS OLD. His owner requested that he be euthanized because he has diarrhea and is vomiting. So this guy sits and waits all alone. Does he know he doesn't have much time? Is he desperately searching for his owner? We're going to be really honest. We don't know if we can save him. He hasn't been seen by a vet and maybe they'll decide that euthanasia is the best choice to end his suffering. Maybe we can get enough donations so a rescue can tag him and let him pass surrounded by dignity and love. We don't know how much time he has left, but we think he deserves a peaceful passing. Can you donate to attract a rescue? Every little bit helps. 💔💔💔If you cannot foster or adopt, please consider donating. 100% goes directly to the rescue that saves him once freedom photos are posted in the comments for everyone to see. If he isn't saved for ANY reason, your donation is REFUNDED IN FULL! Just say it is for Radar in the notes while checking out.paypal.me/pupitforwardhttp://petharbor.com/pet.asp?uaid=HRRS.A518736A518736Harris County Animal Shelter612 Canino Rd. Houston, TX 77076Monday-Friday 1pm-5:30pm, Saturday-Sunday 11am-3:30pm281-999-3191www.countypets.com**This page is run by VOLUNTEERS for the animals. We are simply a bunch of animal lovers who spend our free time trying to save them all. We are not affiliated, or endorsed by the shelter, nor do we represent the shelter.**

Posted by Houston & Harris County Animal Volunteers on Monday, October 1, 2018
"Sometimes animals come in and you're just at a loss for words. This is one of those times."
What happened next shows the power people hold within them to show their love for animals. And the wonder of the internet in bringing people together.
If Radar was going to have any chance at survival and a loving home, he needed to get out of the busy animal shelter, and find a home that could give him care and attention. So the shelter workers posted a notice on Facebook.
Harris County Animal Shelter wrote on Facebook, "Sometimes animals come in and you're just at a loss for words. This is one of those times." "This little Ewok-looking teddy bear is Radar. It's pretty easy to see that Radar is terrified, confused and wondering where anything familiar went."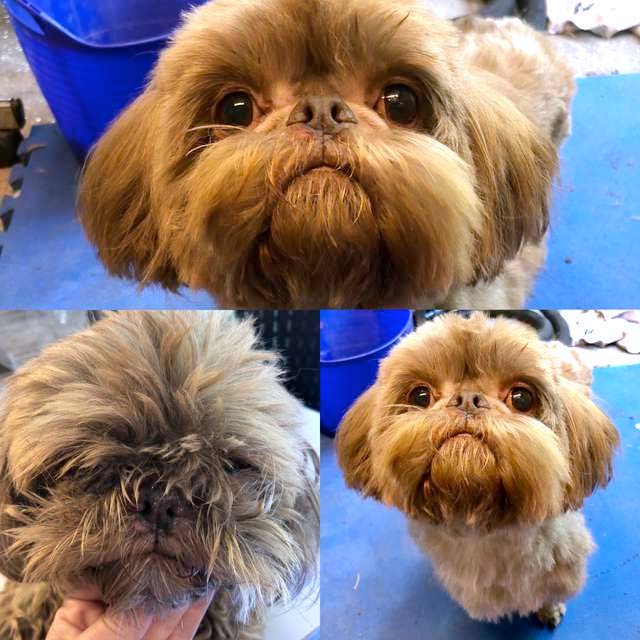 After that Facebook post Radar's story went viral. A volunteer at the Animal Justice League discovered the plea to save him.
Animal Justice League rescue board president Jennifer Graves said they were actually in a meeting when a volunteer tagged them on the Facebook post. They immediately and unanimously agreed that they couldn't allow this aging pup to spend another minute in the shelter.
Graves said, "We knew that if it was, in fact, his time to cross the Rainbow Bridge, we wanted it to be in a home with dignity and not in the shelter where he was alone and scared."
What was heartbreaking to see, despite Radar's difficult past, was that he still longed for a sign of his former home or familiar comfort.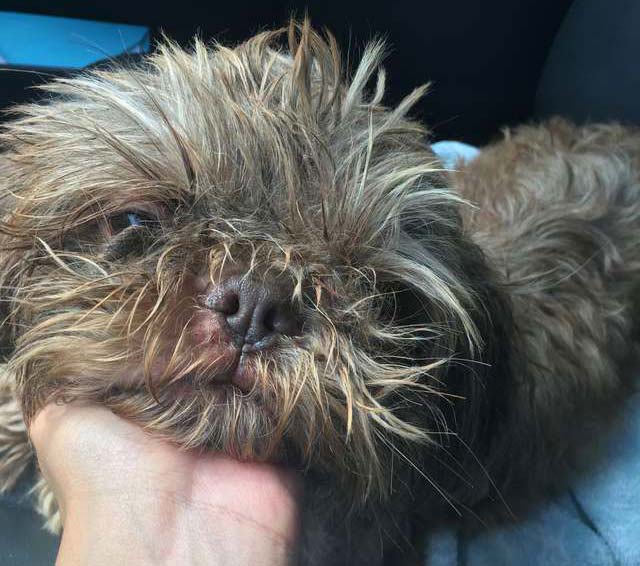 It looked like he was searching for his owner because he would sniff around trying to find familiar smells. When he didn't find any familiar smells he would simply pick a person nearby and cuddle up next to them for safety.
At the vet, tests showed Radar was fighting off a fever, had a gastrointestinal infection and showed signs of a significant heart murmur. The vet gave him antibiotics and pain medication. In less than a week under the rescue's loving care, his health improved dramatically.
Radar is now clean and comfortable in a foster home, and finally getting the attention he so deserves.
Radar's foster mom, Brandi Hendrix says even though Radar doesn't always feel the best he definitely wants to be around people. Now that he is in a good home he is much more alert and even follows her around the house. Radar often sits next to his foster mom with his head in her lap.
The caring volunteers at the Animal Justice League rescue center are not sure if Radar will fully recover, but they are hopeful this fluffy little pup will have a happy and peaceful second round. Meanwhile, they diligently work to provide the best possible care for Radar and prepare him for adoption.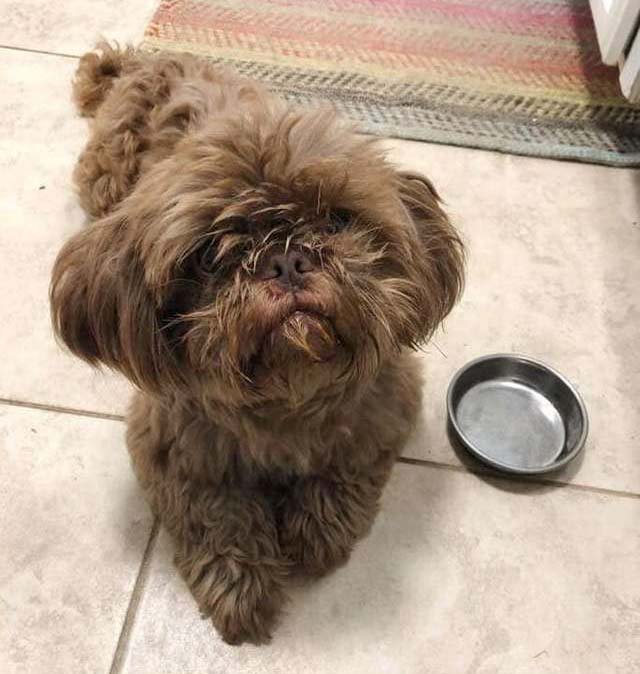 This strong senior pup has come so far since he was dropped off with such dire instructions for his future.
Images courtesy Animal Justice League.