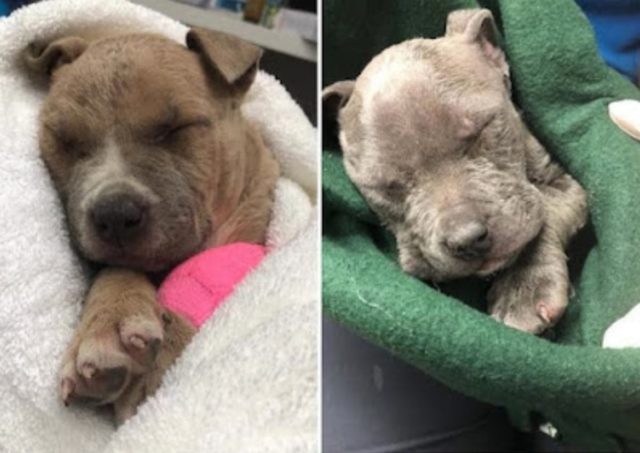 One winter in Kansas City, Missouri, one man saw a box lying on the snowy ground. Out of sheer curiosity, he decided to investigate and found two unconscious puppies freezing inside the box.
The puppies were so cold and did not move at all. The unnamed man rushed the two frozen little puppies to the KC Pet Project's facility despite not knowing if they would make it out alive.
When the man arrived at the animal shelter, the workers immediately provided the two puppies the medical care they needed. The veterinarians worked hard to keep the puppies warm and gave them the fluids they required.
Our sweet puppies we posted this morning have been moved into a foster home, but before that, they got to eat some yummy gruel. It's safe to say that they enjoyed it. So much, they were wearing it. #puppies

Posted by KC Pet Project on Thursday, January 4, 2018
KC Pet Project shared on their official Facebook account how thankful they are for the kind man who spotted the box in an abandoned lot. The animal shelter workers further thanked him for going the extra mile by rushing the puppies for them to receive their much-needed care.
Aside from commending the man's heroic act, the shelter staff praised the veterinarians who worked hard to get the puppies back to their normal temperature. They also showed appreciation to the canine care team members who took the puppies home for overnight observation and further care.
Though most of the staff were extremely worried if the puppies would make it through, they are pleased to share that their team effort did wonders for the little pups. They happily reported that the puppies survived the night, ate the following morning, and rested throughout the day.
The volunteers said that they would monitor the puppies for a few more days to guarantee that they are in their best health before transferring them to a foster home for recovery. As soon as the puppies fully recover in their foster home, they will be put out for adoption.
The KC Pet Project gave their gratitude for all the generous donations their Roadrunner Medical Fund received, which allowed them to help animals in need continuously.
Source: KC Pet Project via Facebook