To say that there's a lot of research and planning that goes into adopting dogs would be an understatement. The reason being, we need to make sure that we have the capacity to give these pups the life they deserve.
Ideally, that's the process every aspiring dog owner goes through. The thing is, that's not the case for most people. Among them is Jack Jokinen, a resident of Fishtown, Philadelphia.
Canine surprise
Jokinen woke up at 4 in the morning one Saturday to see his wife beside him. He was still groggy when she shared some pretty unusual news with him. It had something to do with a random dog hanging out in their living room.
Weirded out by what his wife told him, Jokinen made his way to the living room. There, he saw the dog his wife was talking about. It was a small Labrador mix that was shivering, emaciated, and obviously stressed.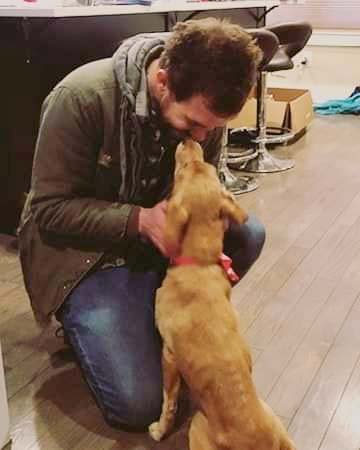 He immediately made a security sweep around the house to make sure there was no one else inside. When he was done, he went back to the puppy to figure out how she got in.
The security camera footage revealed that the wind blew the door of their house open because he forgot to lock it the night before. Around 3 AM that morning, the dog limped inside. Thirty minutes later, a stranger saw the open door and decided to close it.
From random dog to forever pet
Jokinen and his wife couldn't find it in themselves to turn their backs on the poor dog. After drying her off, they took her to the vet to have her checked. There, they found out that she was already a senior and that she was suffering from different health conditions.
The couple posted online about the dog's condition and asked everyone to help them raise funds for her treatment. Their post went viral, allowing them to raise $15,000 in two days. They immediately started her treatment. When she finally recovered, the couple welcomed her into their home.
Credits to Stevie Griendling
Read More: Great Dane Shows How Much He Loves His Pro-Basketball Player Mom