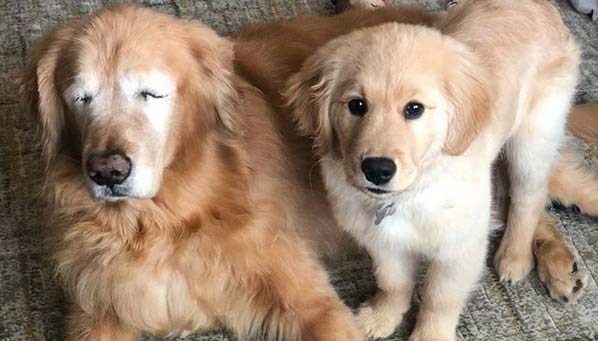 Dogs were initially trained to be service dogs for people with disabilities, but what happens when a seeing-eye dog is training to be in service to another dog?
Seeing Eye Dogs for Other Dogs? Meet Maverick
Charlie is a senior dog and is in need of doggy assistance. He's been with the Stipes family for 11 years now, and old age had begun to catch up with him.
Charlie is suffering from severe glaucoma, which claimed both of his eyes, so his family decided to adopt a friend for him. But instead of the usual employer-employee relationship between the two doggos, the Stipes family found out that the new pup became more than just a seeing-eye dog for his older brother.
Meet Maverick, the four-month-old guide in training, slash, the service pup. The moment they first met, Maverick stuck to Charlie's side like glue. The two became inseparable!
Maverick still has to attend some doggy training from time to time but, when he wasn't strictly on duty, the family constantly sees him chilling along with Charlie. Maverick became his daily companion when it comes to walking, playing, eating, and even serves as a nap buddy.
Everybody is convinced that the four-month-old pup has definitely found his calling, and the Stipes family couldn't agree more. They were just too happy to have the two best friends bringing joy and doggy love into their home.
The two furries looked so adorable together that the Stipes family decided to set up an Instagram account for the heartwarming duo in order to share a little puppy love on the internet.
The two began to inspire many other dog owners in similar situations. Not only has this lead to other dogs getting adopted too, but it has helped many older dogs who never need to be sad anymore as they grow old. Blind or not, dogs have needs too.
Source: charlieandmav via Instagram
If you love inspirational dog stories perhaps you'd enjoy reading about P!nk – a record breaking agility dog who has shown the world how special she really is.