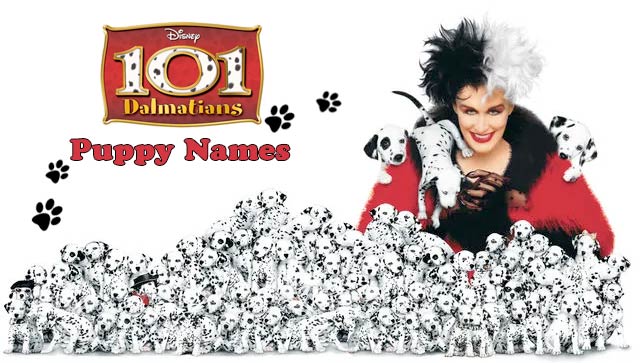 Have you have fallen in love with the many adaptations of the 101 Dalmatians tale? If so you may be looking to pick a name for your new puppy (Dalmatian or otherwise) from one of the many 101 Dalmatians dogs names in the book, movies, or television series.
One would think this would simply be a list of one hundred and one puppy names, however it may surprise you to hear many of the puppies' names changed or were never revealed through the many forms this story was given to us over the years.
For example in the book, and it's sequel, The Starlight Barking, only a handful of dogs were actually named. And the parents were even different from the live action and animated movies you may be more familiar with.
What are the Names of the Dogs in 101 Dalmatians?
If you love the movies or books, or are simply looking for a cute name for your dalmatian or other puppy we've put together a list of as many 101 Dalmatian names we could find. We hope you enjoy your dalmatian puppy, and he or she loves their famous dalmatian name.
Adult Dalmatians Named in 101 Dalmatians Books
• Pongo
• Missis Pongo
• Perdita
• Prince
Puppy Names in the Original 101 Dalmatians Books
• Cadpig
• Lucky
• Patch
• Roly-Poly (changed to Rolly in the animated movies)
• Gay (one of the 82 rescued puppies)
With the initial release of the 101 Dalmatians movie in 1961 a few things changed. Now the parents of the fifteen Dalmatian puppies were Pongo and Perdita. We also got to meet 84 rescued puppies instead of the 82 in the book series.
Dog Names from 101 Dalmatians 1961 Animated Movie
• Pongo
• Perdita
• Lucky
• Patch
• Rolly
• Penny
• Freckles
• Pepper
1996 Live Action 101 Dalmatians Puppy Names
• Dipstick
• Domino
• Fidget
• Jewel
• Little Dipper
• Oddball
• Two-Tone
• Whizzer
To add to the bounty of 101 Dalmatians puppy names Disney released an animated TV series in 1997-1998. Over sixty-five episodes we were introduced to a number of new puppies led by three of our favorite original puppies; Lucky, Rolly, and Cadpig. (and of course their chicken friend Spot who wanted desperately to be a Dalmatian too)
101 Dalmatians: The Series Puppy Names
• Cadpig
• Lucky
• Rolly
• Duke
• Furrball
• Hammy
• Hoover
• Pickle
• Playdoh
• Pooh
• Rebecca
• Rover
• Sa-Sa
• Smokey
• Spotty
• Tripod
While purists might prefer the original six puppy names, Disney revealed another forty-one 101 Dalmatians puppy names through their merchandise. If you are looking for some fun and frolic-y puppy names for your Dalmatian this list might give you some inspiration.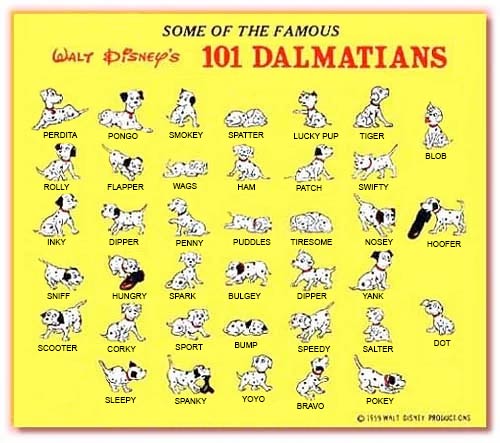 101 Dalmatians Merchandise Puppy Names
• Blackie
• Blob
• Blot
• Bravo
• Bulgey
• Bump
• Corky
• Dipper
• Disco
• Dot
• Flapper
• Ham
• Harvey
• Hoofer
• Hungry
• Inky
• Jolly
• Latch
• Lenny
• Missy
• Nosey
• Patches (not to be confused with Patch, one of the original puppies)
• Pokey
• Puddles
• Salter
• Scooter
• Sleepy
• Smokey
• Sniff
• Spanky
• Spark
• Spatter
• Speedy
• Sport
• Swifty
• Tiger
• Tiresome
• Wags
• Whitey
• Yank
• Yoyo
That still leaves a whole lot of 101 Dalmatians dogs names to go doesn't it? What are some of your favorite puppy names? Leave a comment below with a few suggestions. Maybe we can encourage Disney to keep giving us more names for our beloved 101 Dalmatians.