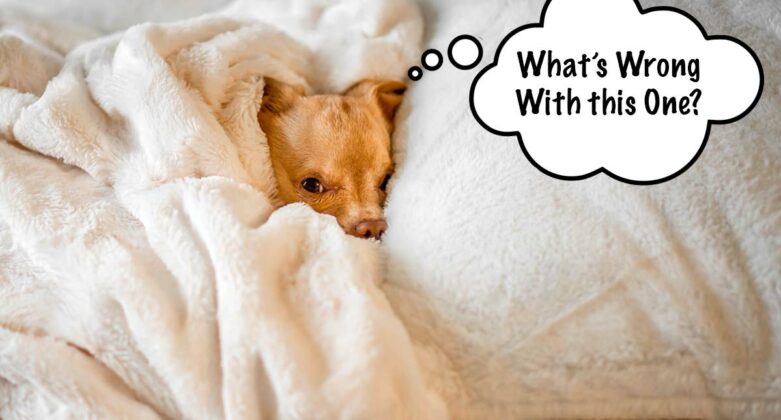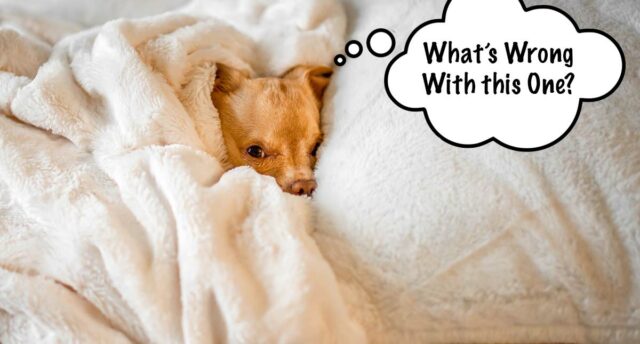 Just like we do, dogs need a comfortable place to rest their heads at night. I don't know about you, but unlike most humans, dogs often like to chew on their beds. This destructive behavior quickly ruins a bed, leaving you scrambling to find a replacement. And out even more of your hard earned money.
Table of Contents
Chew-proof dog beds are designed to stand up to even the most vigorous chewers, making them a valuable investment for any dog owner. These beds are typically made from thick, durable materials like ballistic nylon, Kevlar, denim, or other heavy-duty materials. This not only makes them resistant to chewing, but also helps to extend the life of the bed.
In addition, chew-proof dog beds often have reinforced stitching and reinforced corners to further deter chewing. For owners of energetic chewers, a chew-proof dog bed can provide peace of mind and a comfortable place for your beloved pet to sleep.
While we have yet to find many truly indestructible dog beds – if a dog is going to chew he's going to tear up anything that gets in his way. But these tough dog beds we've listed here are your best shot at finding a dog bed that will last.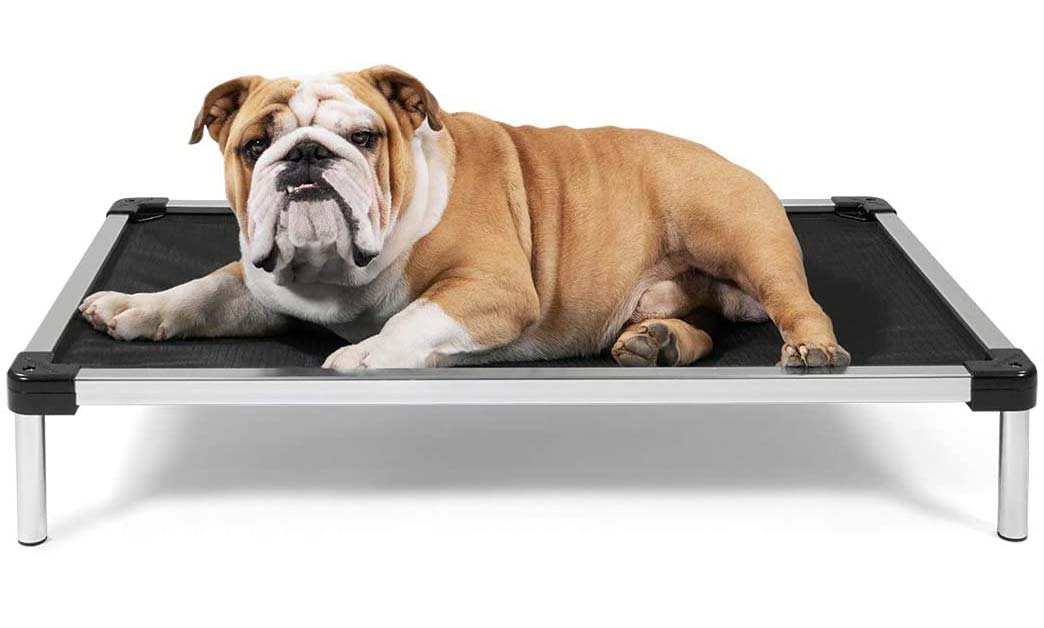 1. K9 Ballistics Armored Elevated Dog Bed
**Best Dog Bed for Crate (and easiest to keep clean)
If you're looking for an indestructible dog bed that can stand up to even the most persistent chewers, the K9 Ballistics Chew-Proof Armored Elevated Dog Bed is perhaps the best dog bed for chewers. Plus it's elevated stance creates good air flow around your dog to keep him cool while he sleeps.
This tough and durable dog cot style bed is made with full aluminum construction and ripstop ballistic fabric, making it resistant to chewing, biting, scratching, digging, and nesting. It's also designed to fit snugly in all standard size dog crates, helping to keep your dog safe while also preventing damage to the bed.
Whether you have a puppy who likes to chew or an adult dog with destructive habits, the K9 chew-proof dog bed is sure to stand up to their worst. Give your dog a bed that will last with a K9 Ballistics platform bed (Heck even the name sounds tough).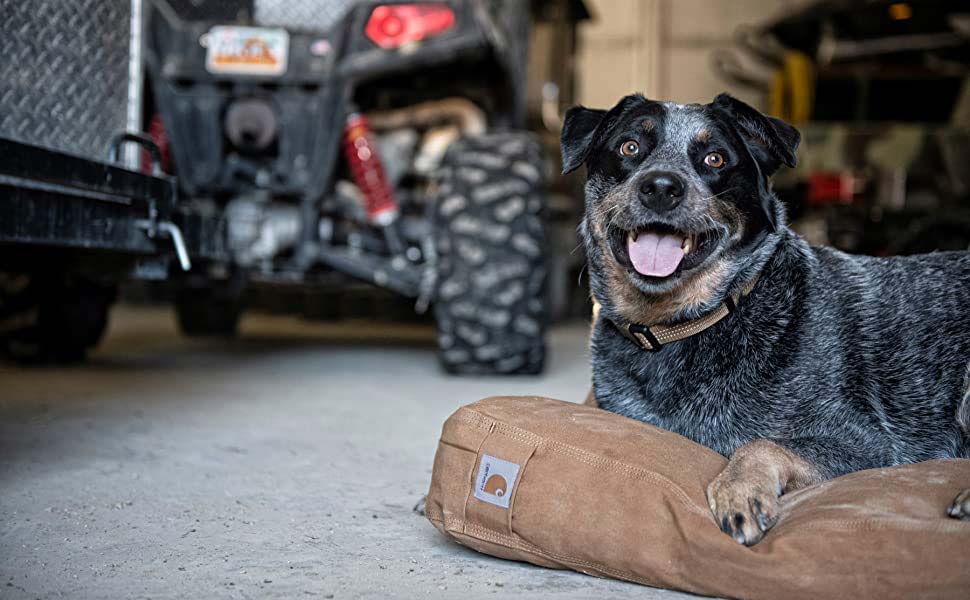 2. Carhartt Durable Canvas Dog Cushion
**Best Dog Bed for Labs & Active Dogs
Introducing the Carhartt Durable Canvas Dog Bed – the perfect place for your hardworking furry friend to cozy up at night. This chew resistant dog bed is made from the same tough and durable duck canvas material they use on their world-famous jackets, so you know it's built to last. If you're looking for a Carhartt chew proof dog bed there are three sizes and six styles to fit your needs.
And because dogs can get pretty dirty (and their beds can too), the shell is fully washable so it's easy to keep clean. No more worrying about stains or odors – just throw it in the washing machine and let it do its thing. For that reason this is one of the best dog beds for hunting dogs. Your dog will love spending time on this soft and comfortable bed – and you'll love knowing that they're resting on something of the utmost quality.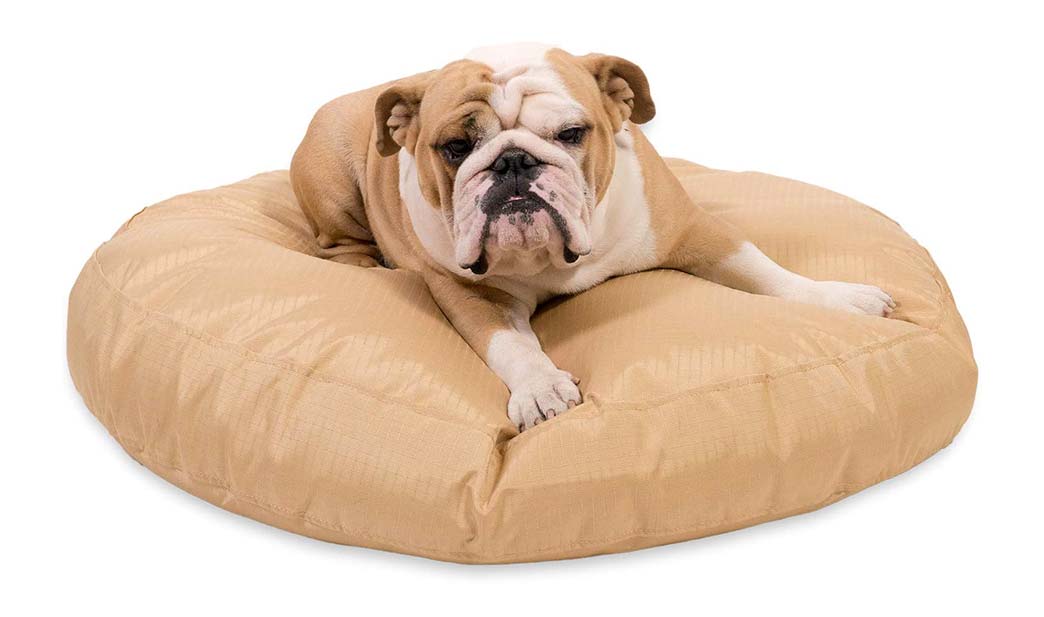 3. K9 Ballistics Nearly Indestructible Waterproof Dog Bed
**Best Cushioned Chew-Proof Dog Bed
If you need a dog bed that can withstand relentless chewers and your dog prefers something a little more cozy than the K9 elevated dog bed, look no further than the K9 Ballistics Waterproof Dog Bed!
This tough and durable dog bed is made with incredibly strong ballistic nylon fibers, ensuring that it can stand up to even the most powerful jaws. In fact, K9 says they tried to make Kevlar dog beds but they weren't tough enough so they had to develop their own even more durable fabric.
Their CertiPUR-US shredded foam mattresses are made in the USA and are non-toxic. They provide optimal support and comfort for every size dog. Not only is is a durable high quality mattress for your dog it is designed to improve their sleep quality as well.
Most importantly for dogs who like to get a little rambunctious with their beds the round shape of the bed helps to prevent damage from chewing, as most dogs go after those yummy corners first. Plus, the bed is machine washable, waterproof, and resistant to dirt, grime, and odors. Give your furry friend a bed that will last with the K9 Ballistics Nearly Indestructible Waterproof Dog Bed.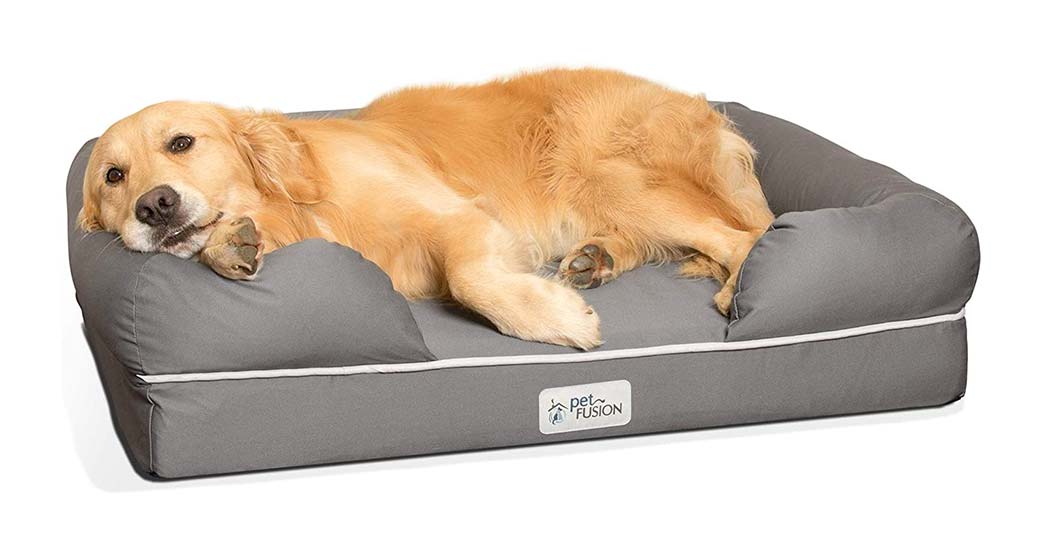 4. PetFusion Ultimate Dog Bed
**Best Waterproof Dog Bed
The more we looked for chew-proof dog beds the more we realized there really is no such thing. But perhaps this top rated orthopedic memory foam dog bed will make your pup so comfortable he'll forget about chewing altogether.
Ditch the rough and tough dog bed material and go with ultimate comfort and support instead. The PetFusion Ultimate Dog Bed is made with recycled green memory foam and a waterproof liner, making it perfect for dogs of all ages. It's especially helpful for mature and older dogs who begin to have sore joints and arthritis.
The generously filled outer bolster provides excellent support and opportunities for nestling. While the breathable material is skin contact safe, ensuring your dog will love spending time in their new bed. The two zipper compartments make removal easier, and the water resistant design will slow absorption before it reaches the waterproof inner liner.
Give your dog the gift of ultimate comfort with the PetFusion Ultimate Dog Bed!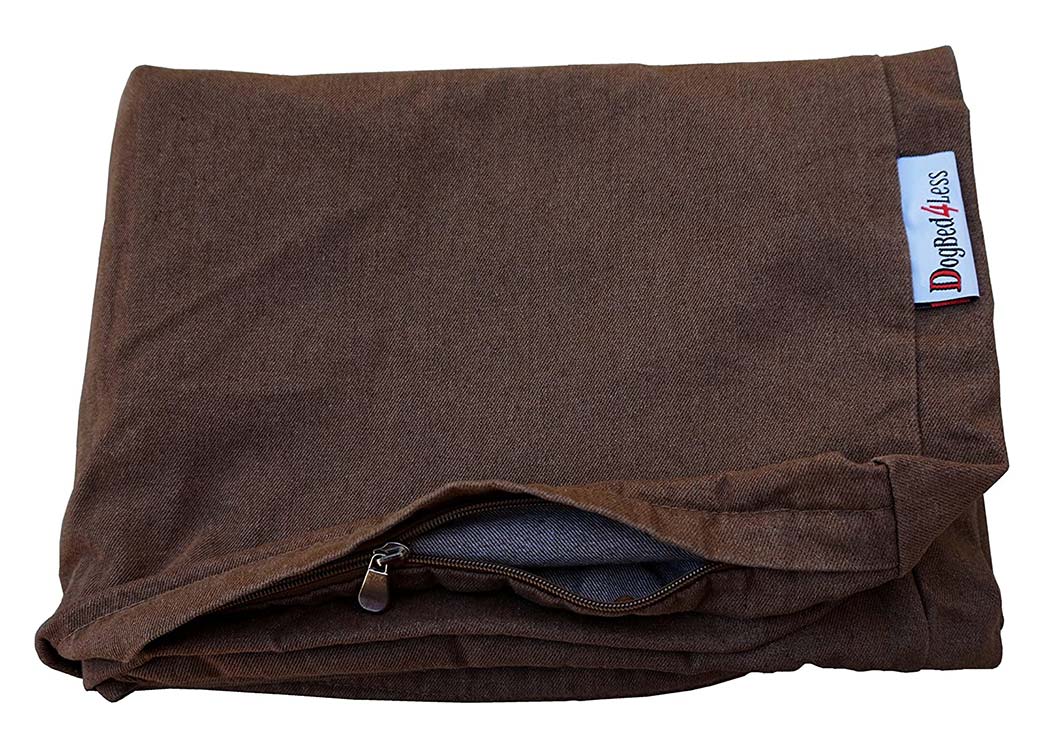 5. Dogbed4less Heavy Duty Chocolate Brown Denim Dog Bed Cover
**Most Affordable Chew-Proof Dog Bed
If your dog chews through his bed faster than his favorite chew toy maybe it's time to make your own dog bed with durable dog bed covers. A DIY chew proof dog bed is easy to make when you provide your own stuffing or simply re-cover your old favorite dog bed.
One of the toughest we've found is the Dogbed4less Heavy Duty Chocolate Brown Denim Dog Bed Cover. Available in numerous sizes to make a cozy bed for any sized dog all at a cost effective price (Under $40). A DIY dog bed is the most affordable chew-proof pet bed option because you can replace the cover quickly and easily if your dog does decide to chew.
Q&A
What is the Best Chew-Proof Dog Bed for Crates?
An elevated dog bed like the K9 Ballistics elevated dog bed reviewed above is your best bet for a crate dog bed. It's designed to fit the dimensions of your crate while giving your dog a lift. Raised dog beds keep your dog cool while sleeping.
Is There a Waterproof Chew-Proof Dog Bed?
Many dog beds have water-resistant covers, but aren't 100% waterproof. The best waterproof dog beds have resistant covers with an added layer of protection. Such as an additional waterproof liner that protects the bed from accidents when your pup is drinking in bed.
Our top pick is the PetFusion Ultimate Dog Bed with Orthopedic Memory Foam (Number 4 on our list) because it has the resistant cover and inner lining. However, the cover while durable probably will not deter a persistent chewer.
What is the Most Affordable Chew-Proof Dog Bed?
There are plenty of great dog beds for an affordable price. However, the price does reflect the quality is some cases. To be fair none of the low cost dog beds are designed to withstand a good chewer.
To get the best chew-resistant dog beds you have to look for the ones with higher quality materials – which in most cases means a more expensive dog bed.
As we mentioned above a good low cost option is to make your own chew-proof dog bed with a heavy duty dog bed cover placed over-top your standard bedding.