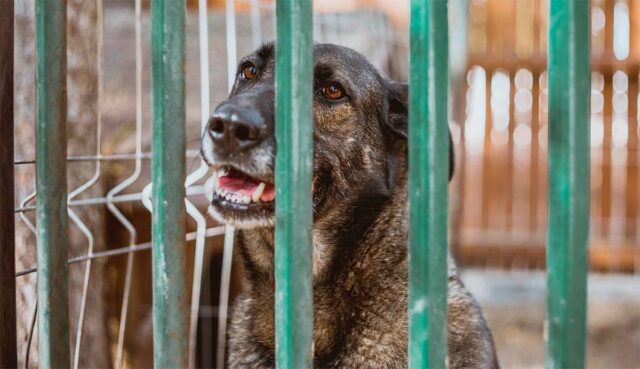 Bella is a nice dog that spent the majority of her life in a concrete cage at a Romanian public pound. She had never known what affection was or how wonderful it felt to live in a loving household. She began to lose hope as the years passed, until she was rescued by Howl Of A Dog, a local animal care and rescue organization.
Bella was taken straight to the animal clinic after being rescued from the animal pound. The rescuers understood that they needed to get her checked as soon as possible. As a result, they traveled as quickly as they could to ensure that the dog received the medical attention she deserved.
The dog fell asleep on her rescuer's lap on the way to the doctor. She was so trusting, and she was overjoyed to be free of her former existence. That was the beginning of something big in her life, and she knew that.
Bella's itchy skin and dog dandruff caused her to need medicinal baths. She had blood tests to see whether she had any significant medical issues, which she happily did not. She was groomed afterward, and she went straight to the shelter after that.
The dog gained weight in a matter of days. Her appetite had improved, and her skin had begun to mend. She was still hesitant and nervous, and she needed more time to adjust to her new surroundings.
Bella was given special attention by the rescue workers and volunteers. They took her for morning walks, spent quality time with her, and made sure she was safe. They gave her all the tools that she needed to have a good future.
Bella, who was about four years old when she was rescued, turned out to be an extraordinarily affectionate and sweet dog despite having never been raised in a family. She was extremely obedient, intelligent, and courteous, and she enjoyed playing with other rescue dogs. Despite the fact that she grew up without any dog siblings, she was a natural with them.
The dog is currently residing in Germany with her devoted forever family. She goes out for walks in the mornings and plays with her dog and cat siblings in the afternoons. She is unquestionably living the good life.
Source: Howl Of A Dog
Keep Reading: Friendly Aussie Can't Hide Excitement Over Newest Puppy Sibling